Oakland is a fantastic place to enjoy a bike ride. From the relaxing loop around Lake Merritt to the many bike lanes tracing the major streets into downtown, there are plenty of miles to explore.
Unfortunately, there are times when local cyclists are left vulnerable to the carelessness of Oakland drivers. At intersections, when sharing a lane with cars, or in a narrow bike lane, one distracted driver can create a devastating bicycle accident and injury.
In an effort to draw attention to the state of cycling safety in Oakland in 2022, the bicycling advocates at Quirk Reed LLP decided to examine the very latest accident statistics.
Oakland Bicycle Accident Statistics in 2021
California's Transportation Injury Mapping System (TIMS) tracks bicycle accidents across the Bay Area each year. In a look at bike accident incidents involving an injury, the numbers for Oakland have mostly been falling over the past five years.
In 2021, a major dip in accidents is evident in the data, but the TIMS statistics for the year are still preliminary, so that figure below could change as additional data is reported over 2022.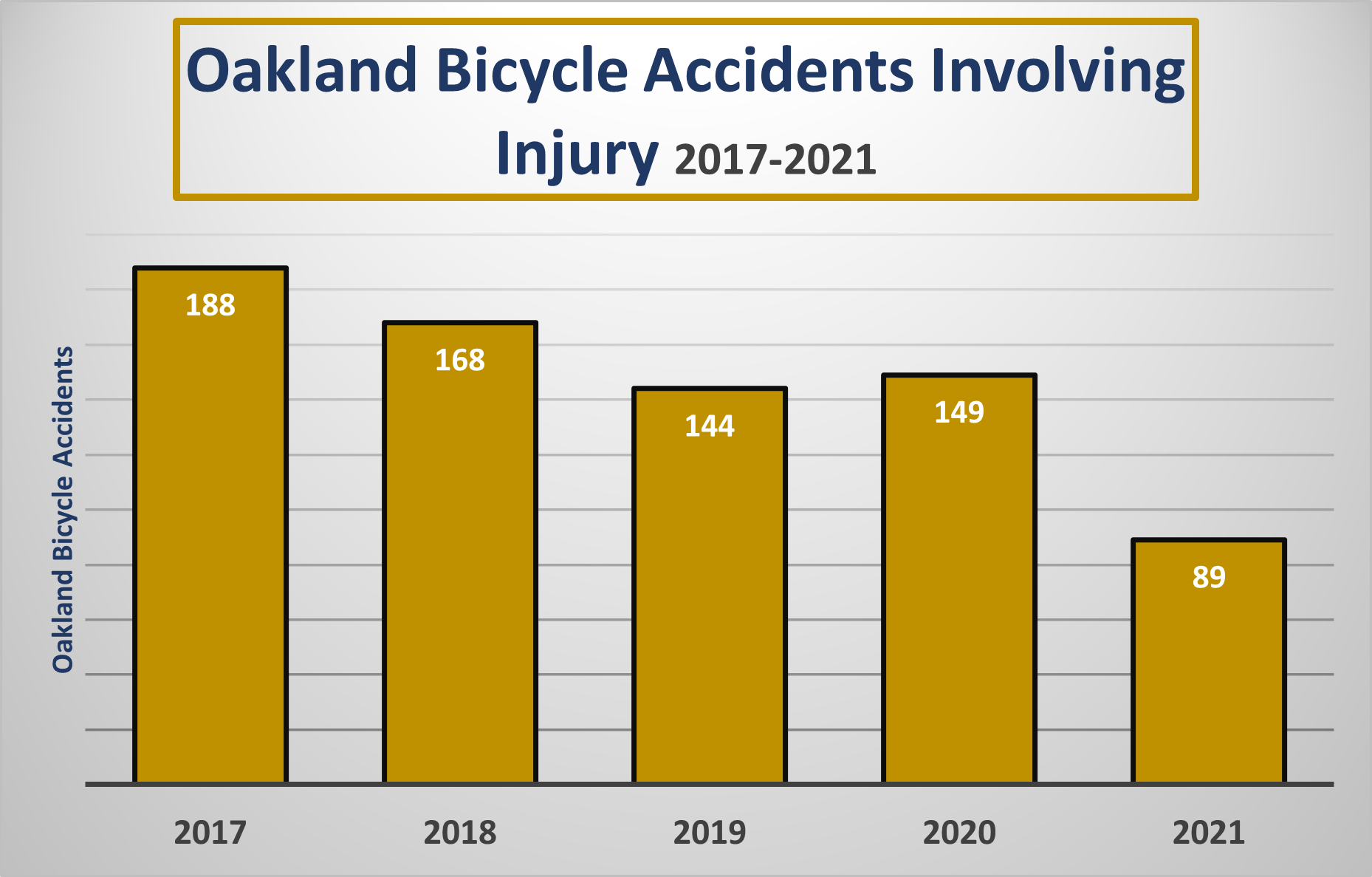 In 2020, the number of bicycle accidents and the severe injuries resulting from them spiked. 2020 was, of course, the beginning of quarantines and COVID-19 protocols. With Oakland residents parking their cars and staying local much more often, some turned to walking and biking to get out of the house.
Experts noted that there were also fewer vehicles on the road. But in many cases, the statistics showed that the drivers that did venture out behaved much more recklessly when finding less crowded roads. That may have contributed to added dangers for an increased number of riders.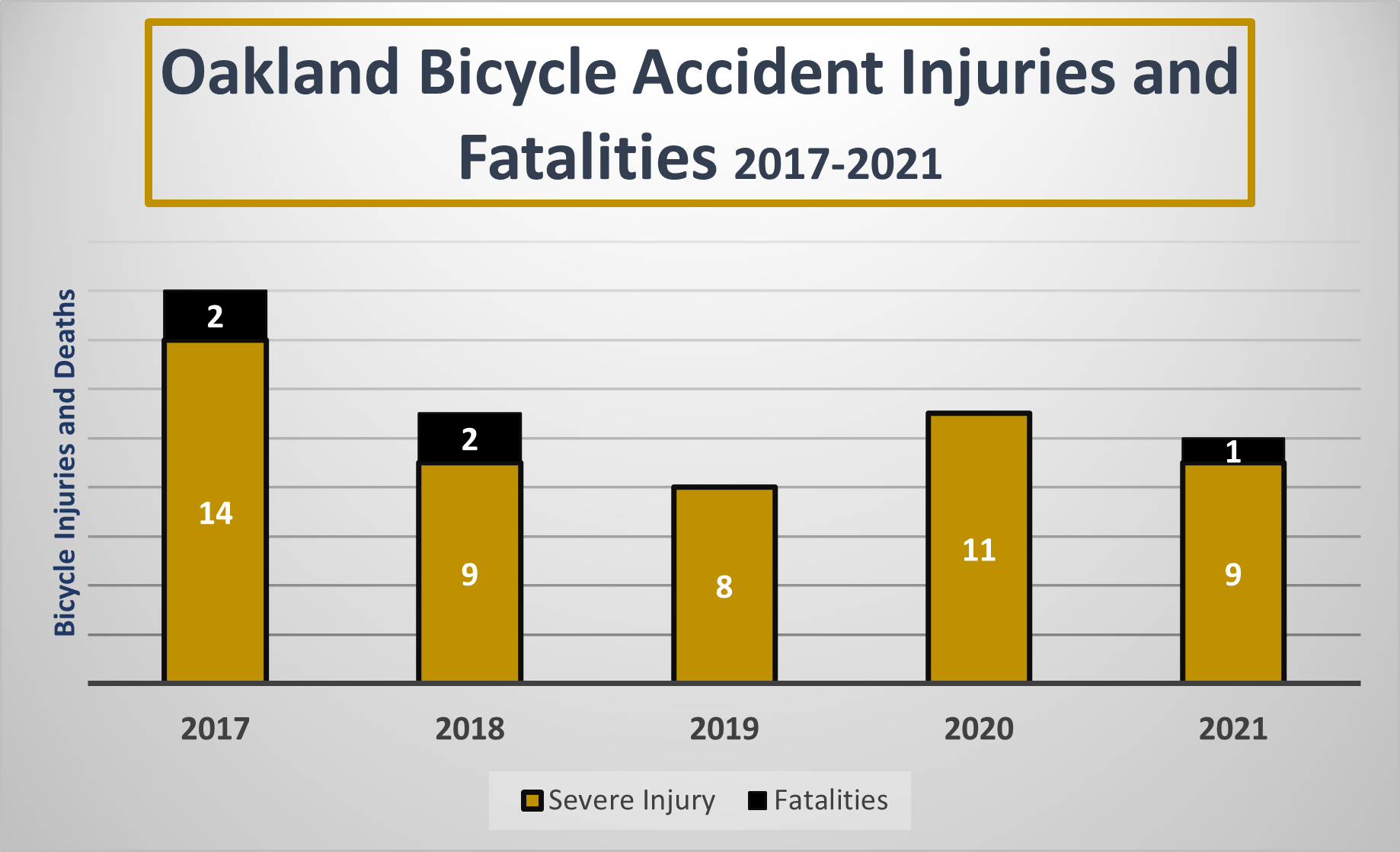 Dangerous Oakland Intersections for Cyclists
Oakland has regular bike lanes along some streets such as those marked off on Peralta Street. These narrow lanes are designated only with white lines and leave cyclists riding close to moving traffic and parked cars. Other sections of Oakland, like Clay Street, feature buffered lanes that have multiple lines to further separate moving traffic and bike lanes.
Protected or "separated" bike lanes have physical barriers between traffic and riders. The separation may be marked by medians, parked cars, or plastic pylons. Along Telegraph Street, through the KONO district, the very first protected bike lanes in the city were installed in 2016 and safety has improved. Streetsblog SF reported that pedestrian and cyclist usage on the road increased 100% while collisions decreased by 40%.
Cycling accidents still occur, of course, and Oakland's DOT still considers Telegraph Avenue a high injury corridor for motorists, cyclists, and pedestrians. By looking at TIMS data for busy intersections in Oakland, it is easy to highlight the spots where cyclists are placed in the most jeopardy year after year.
These are some of the intersections that have recorded the most bike accidents with injuries in Oakland over the past half-decade: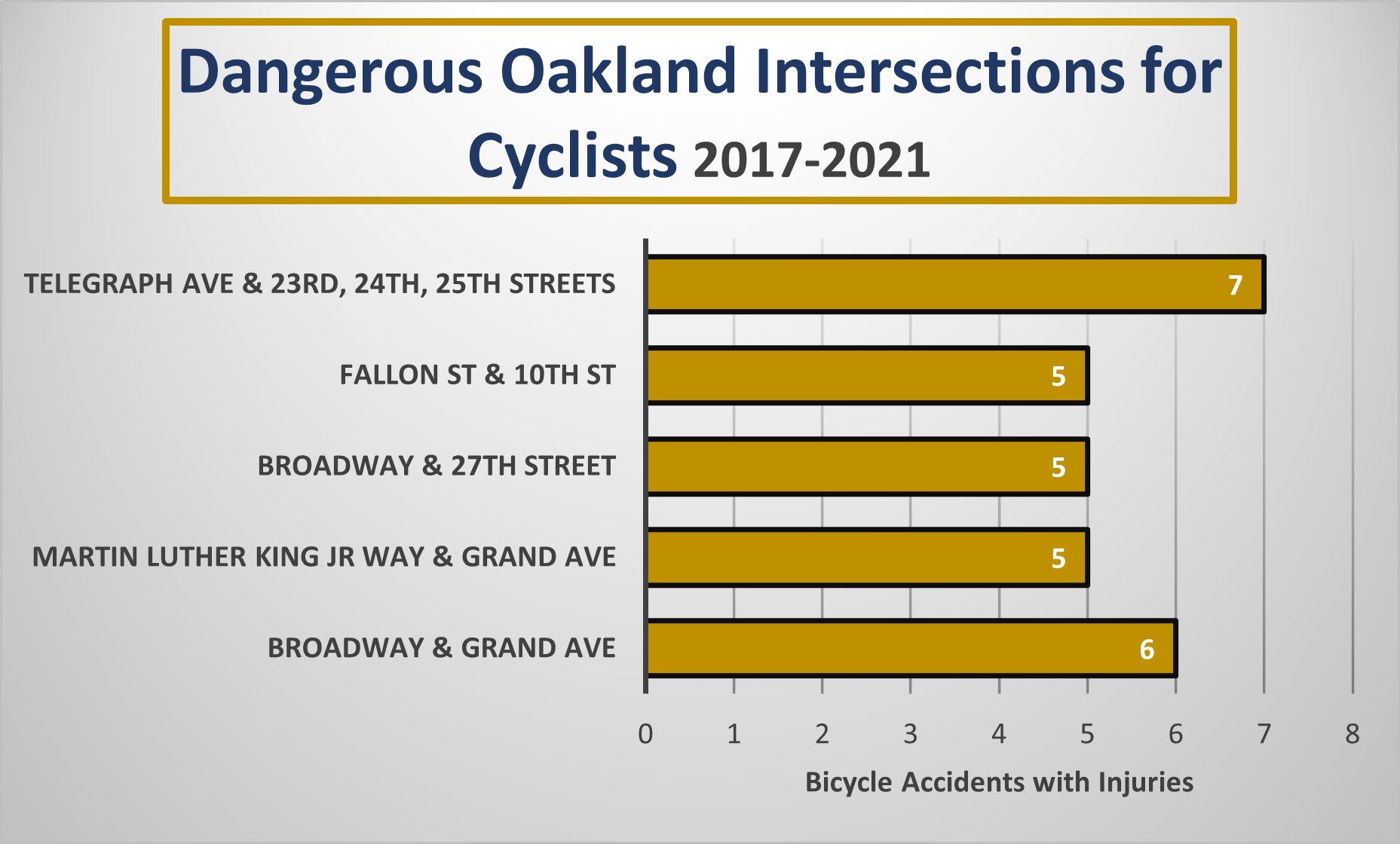 Oakland Bicycle Rider Dangers From DUI Drivers
Bicyclists are at risk from any careless or reckless action by drivers. And sometimes those hazards are no accident. Motorists can choose to drive while under the influence of a drug or alcohol and turn cyclists in bike paths and at intersections into targets.
This thoughtless act can cause devastating collisions on Oakland streets and leave victims off their bikes for months. In the worst incidents caused by a drunk driver, families are left to mourn the loss of a loved one.
In a safety analysis, The City of Oakland found that 1 in 4 local cyclists killed are hit by an impaired driver. Riders spend enough time anticipating and avoiding the mistakes of normal drivers. They often can't predict the reckless actions of drivers with impaired judgment.
This is a look at the bicycle accidents resulting in injuries in Oakland where alcohol use was a contributing factor. Figures provided by TIMS: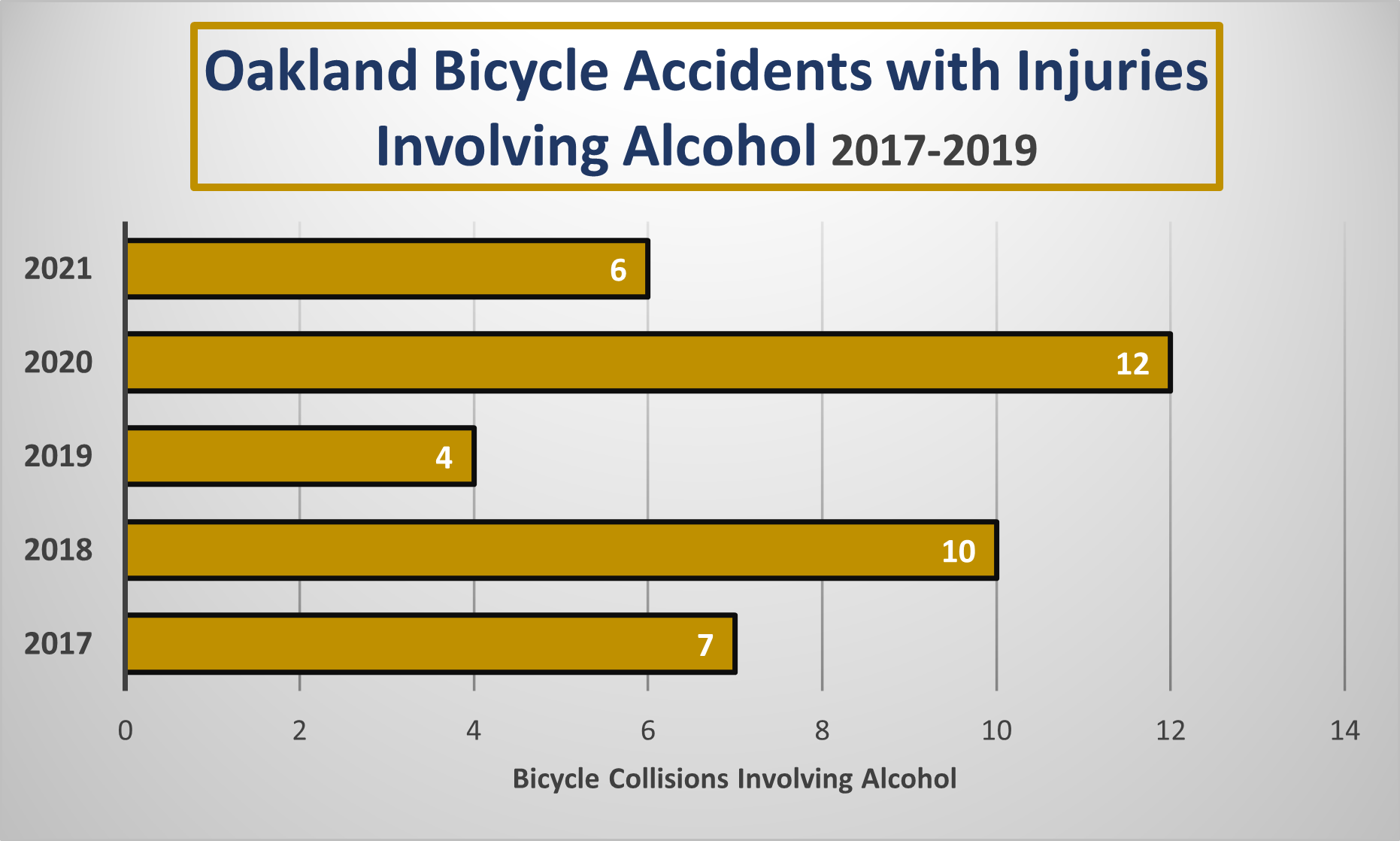 Oakland officials also found that speeding drivers are just as much a threat to cyclists as drunk drivers. When considering all types of fatal bicycle collisions in Oakland, over 25% involve a driver going over the speed limit.
Contact an Experienced Oakland Cycling Accident Lawyer
After a bicycle accident hurts you or a loved one, it's critical to hold an at-fault driver responsible for every recovery cost a victim or a family left behind faces.
Reach out to the skilled Oakland Bicycle Accident Lawyers at Quirk Reed LLP. You'll receive a free, no-obligation case consultation. It is our desire that victims stay informed of every benefit available to them so they don't accept less than what's fair for what they've been through.
We are advocates for safe rides in every neighborhood in Oakland. We make sure injured cyclists are provided with everything they need to heal and get back on their bikes as soon as possible.