If you become a victim of one of the tens of thousands of bicycle accidents in the country each year, you need an Oakland bicycle accident lawyer with a history of success like Quirk Reed LLP. Oakland bicycle riders receive an exceptionally high number of serious injuries and fatalities in accidents with vehicles. When a crash occurs between a bicyclist and a motor vehicle, it is almost always the fault of the vehicle driver.
As you might expect, the bicycle rider is the one at the greatest risk from injuries or fatalities.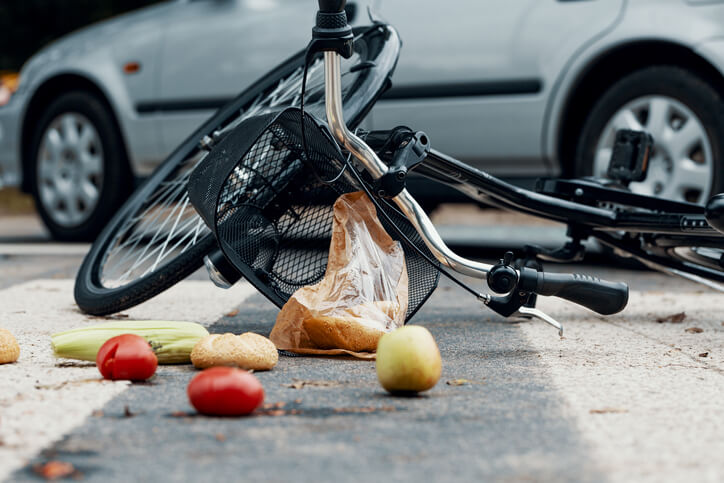 Causes of Bike Accidents In Oakland
Drivers are legally required to treat bicyclists like they do other vehicle drivers. The reason bicycle accidents are so frequent is that drivers don't respect the bicyclists' rights or pay attention to their surroundings.
The small size of bicycles makes it easy for them to be in a driver's blind spot. If the driver doesn't look before changing lanes, they can strike them before they even know they're there.
Drivers also make right turns in front of oncoming bicyclists, open their car doors in front of them, or sideswipe them as they drive past them on the shoulder. California laws are designed to protect bicyclists and give them the same rights on the streets that vehicle drivers have. Failure to follow these laws results in thousands of accidents, often with serious consequences for the bicycle rider. In some the worst cases, at-fault drivers can leave the scene to become guilty of a Oakland Bicycle Hit-And-Run accident.

Quirk Reed has years of experience as bike accident attorneys in the Oakland and surrounding San Francisco Bay area. We've helped many of our clients pursue personal injury and wrongful death claims due to the negligent acts of the motorists who caused their injuries.
Whether you need compensation to pay for your injuries or to help you deal with the loss of a loved one, an experienced bicycle accident attorney will help you get the compensation you deserve.
Bicycle Accident Trends
The number of people riding bicycles is on the rise from coast to coast. The City of Oakland is working to make the area more "bike-friendly" as more bicycles fill the bike lanes, paths, and roadways.
Part of the effort includes addressing dangerous intersections and moving bike lanes out of door zones. Research shows that efforts like these help reduce the number of bicycle and motor vehicle injuries.  But until drivers start obeying the laws regarding bicyclists, the issue of bicycle and motor vehicle accidents will never be completely resolved.
For more on the dangers of local bicycle accidents, check out our 2022 examination of Oakland bicycle accident statistics.
When to Consult a Bike Accident Lawyer In Oakland
You should contact a bicycle accident lawyer immediately after an injury accident. Waiting until later will result in the loss of valuable evidence. Your witnesses might disappear and the other party's insurance company will have an opportunity to try and take advantage of you.
As soon as you contact Quirk Reed and we take on your case, we will perform a thorough investigation into the accident and secure any relevant evidence. We know the type of evidence it takes to win your case.
Types of Compensation You Might Recover
The amount of compensation you pursue isn't a random number. It's based on your damages and injuries and the types of compensation your state permits. In California, a bicycle accident victim might receive compensation for:
Current and future medical costs

Lost wages and earning potential

Pain & suffering

Loss of enjoyment of life

Emotional distress

Property damage

Incidental expenses
If you lost a loved one to a bike accident in Oakland, you might receive compensation for loss of parental or spousal support and loss of spousal relations as well.
You might also receive other types of compensation including punitive damages if the driver that caused the accident acted in an especially egregious way.
If you are struck by a hit-and-run driver, you might still recover damages if you are covered by a motor vehicle insurance policy with uninsured motorist coverage. Your bike accident lawyer will work aggressively to obtain the financial compensation you deserve.
We understand how much your injuries or the loss of a loved one can impact your life. We work to make the legal process simple for you so that you can focus on your recovery.
Why You Need An Oakland Bicycle Accident Attorney
Sometimes people try to handle their bicycle accident claims without hiring a bike accident attorney. They believe that the driver's insurance company will deal fairly with them and give them the compensation they deserve. Insurance companies are businesses with the primary goal of making and keeping as much of their money as possible.
Insurance company adjusters use several tactics to pay you as little as possible. They may try to say the accident was partially your fault or that your injuries aren't as serious as you claim. If they offer you a settlement, it's almost always going to be far less than you deserve.
An experienced Oakland bicycle accident lawyer knows how to handle insurance companies. They know what your claim is worth, and they won't stop fighting until they get you a fair settlement.
The insurance company will use your lack of legal expertise to their advantage. They know that if you haven't hired a bike accident lawyer, you aren't planning to go to court. The insurance company wants you to believe they are on your side. They make you think you can expect a fair settlement so you won't hire an attorney.
While they are promising you a great outcome, they are using evidence to build a case against you. Then they will offer you an unfairly low settlement and tell you it is your only option.
What to Do After a Bicycle Accident in Oakland, CA
Unsure what to do following your accident? It's recommended that you take your bike off the road, call 911 to request medical assistance, and make a note of your injuries. You can also call the local police to report the accident. A bicycle accident lawyer in Oakland might suggest securing contact information from witnesses and the driver who struck you.
However, make sure that you avoid negotiating with the driver involved in the accident. Instead, contact a bicycle accident attorney to ask for legal support in the aftermath of your collision.
Common Injuries After a Bike Accident
A bicycle accident law firm can help if you sustained any of the following injuries in an accident:
Amputation, or the loss of a limb

Brain injury, such as a concussion

Bone fractures, especially in your arms or legs

Dental injury or jaw fractures

Head injury or facial injury, or even injuries to your eyes

Joint dislocation at the shoulder or knees

Neck injury or spinal cord injury

Nerve damage or paralysis
Fatalities can also occur due to a bike accident. An experienced bike accident lawyer can help if you lose a family member.
Bicycle Accident – FAQs
Here are common questions clients ask our bicycle injury lawyer after a collision.
How can a bicycle accident law firm help after a bicycle accident?


Bike accident attorneys can help you review your rights after an accident. A lawyer can handle all communication with the driver who hit you and enables you to file a claim.

Can a bicycle accident attorney help with insurance issues after a bicycle accident?


A bike injury lawyer can take on insurance agents on your behalf. Your lawyer helps you file a claim and ensures that you provide all the correct information when seeking compensation from an insurance company.

How important is it to get the police report after an accident?


Securing a police report can show your accident occurred, so a bike injury attorney considers it very important.

Are there any limitations for bike accident injury claims in California?


Yes, as a bike crash attorney will tell you, you only have two years to file a claim after many bike accidents.

Can you file a case if the bike accident occurs due to a roadway defect?


Sometimes, a bicycle accident lawyer in Oakland can help you hold the city liable for a bicycle accident.
Contact Quirk Reed LLP For A Free Consultation Today!
The best approach to preventing this from happening to you is to contact a qualified bike accident attorney as soon after the accident as possible. Don't talk with the insurance company directly or sign any papers.
If you've been injured in a bicycle accident, contact Quirk Reed right away. If you've received an offer from the insurance company, you still have other options. Leave all communications and negotiations to an experienced bike accident lawyer who really has your best interests at heart.
Remember, it's your legal right to get fair compensation for all the damages you endured due to a negligent driver.
Other Practice Areas:
Areas we serve: