California law states that when bike riders cannot safely ride next to a car, they can use the entire traffic lane. Unfortunately, drivers often do not always recognize this law.
It is essential to seek legal help from a San Leandro bicycle accident lawyer if you are an accident victim.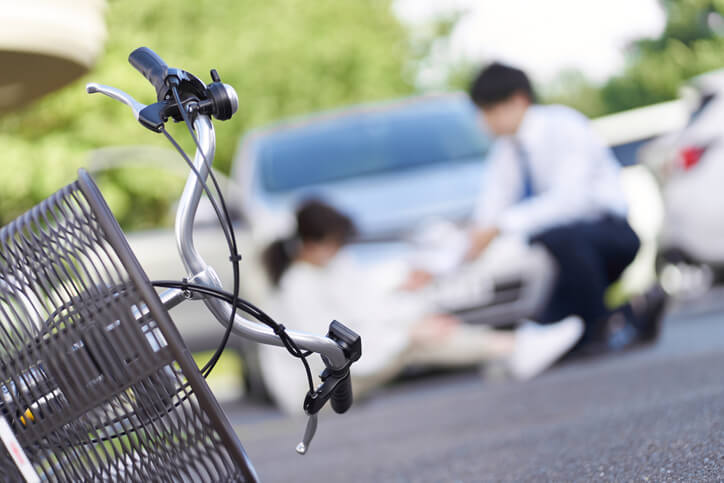 Bicycle Accident Statistics in San Leandro
According to the CDC, cycling accidents are dangerous, accounting for nearly 467,000 injuries in 2015. One thousand of these injuries resulted in death.
Many San Leandro locals know that a cyclist was killed by a motor vehicle in November 2020 despite cycling in a bike lane. Reckless driving is the leading cause of bicycle accidents.
According to the CDC, 37% of cyclist deaths are alcohol-related. Men are also six times more likely to die in a cycling accident than women.
If you or a loved one is a bicycle accident victim, contact a Quirk Reed LLP bicycle accident attorney. We will fight for your right to compensation.
Common Causes of Bike Accidents in San Leandro
The most common causes of bicycle accidents in San Leandro include:
Dooring
Side-swiping
Rear-ending
Right crossing and left crossing
Drivers turning right
Dooring
A dooring accident happens when a driver hits a cyclist with their door because they are not exercising proper caution by checking their side mirrors when exiting their car.
Side-swiping
Though sideswiping may seem like a minor accident, it may cause severe injury or death if a car sideswipes a cyclist. Cars weigh thousands of pounds, meaning that any accident involving one could prove fatal.
Rear-ending
Rear-ending occurs when a car runs into the back of a bicycle or vice versa. A rear-ending accident often causes a cyclist to fly off their bike.
Right Crossing and Left Crossing
A right cross occurs when a driver makes a right turn and hits a biker cycling next to them. A left cross differs because the cyclist usually cycles in the opposite direction when a car turns left and hits them.
Drivers Turning Right
Many car-on-bike collisions occur when drivers turn right, including the right cross. Sometimes cars may not see a cyclist entering the road from a pedestrian lane, which can also cause this sort of accident.
Common Injuries After a Bicycle Accident
Bicycle accidents, unfortunately, often result in severe injury or death. Common injuries include:
Cuts and abrasions
Broken or fractured bones
Concussions
Traumatic brain injury
Perforation of internal organs
And more
Although some cyclists are lucky during an accident, many sustain injuries that affect them for the rest of their life.
If you seek a San Leandro bicycle accident lawyer, Quirk Reed, LLP can help. Our bike injury attorneys have years of experience determining how to seek compensation for your injuries.
When to Consult a San Leandro Bike Accident Attorney
Ideally, you should contact a bike injury lawyer immediately after an accident happens. However, we understand that life doesn't always go as planned.
When you experience an accident, you should first collect evidence, such as pictures, a police report, and a medical report. This paperwork may seem insignificant, but it allows your bicycle injury attorney to establish evidence against the guilty party.
If you cannot contact a bike accident lawyer after the accident, you should contact a lawyer before speaking to the driver's insurance company. Insurance companies can record your conversation and use it as evidence.
We recommend consulting a bicycle accident law firm as soon as possible after a bike accident. This will help you establish evidence early on and ensure that you do not give out information that could damage your case.
Why You Need A Bicycle Accident Attorney in San Leandro, CA
California law is intricate when it comes to protecting cyclists. Drivers, for example, should use "reasonable care" when they are operating a car. If drivers do not exercise this sort of caution, they break the law.
Bicycle accident lawyers understand the details of traffic and cyclist law. We could help you receive compensation if the driver that caused your accident was negligent. It is nearly impossible to fight for your case without proper legal training.
Our San Leandro bicycle accident lawyers are passionate about seeking compensation for those wrongfully injured in a cycling accident.
Types of Compensation an Attorney Might Seek for a Bike Accident
The aftermath of a bicycle accident is expensive. Besides the emotional distress, it can cause an individual and their family; it is a tremendous financial commitment. A bike accident attorney can seek compensation for the following instances:
Medical Expenses
Medical expenses are a costly consequence. Both immediate and long-term medical care are huge financial burdens to families and victims of cycling accidents.
Lost Wages
After suffering a cycling accident, you will likely have to miss work to recover from your injuries. Some victims may receive compensation for lost wages.
Property Damage
Bicycles are expensive machines. If your bicycle or cycling gear becomes damaged during a cycling accident, you may be entitled to compensation.
Loss of a Loved One
Deplorably, some cycling accidents are fatal. The bicycle injury lawyers at Quirk Reed LLP want to help you seek compensation for the emotional distress and financial loss you experienced after losing a loved one.
Bicycle Accident Attorneys in San Leandro That You Can Rely On
If you are looking for the best San Leandro bicycle accident lawyer, the team at Quirk Reed, LLP can help. We are experienced in personal injury law and will fight for justice to be served.
Our resident attorneys, Nikolaus W. Reed and Logan Quirk boast a decade of combined experience in personal injury law. They focus on the details of each case and desire the best outcome for their clients in and out of the courtroom.
If you're searching for a "bicycle accident lawyer near me," contact us via our convenient online form or call our team.
Areas we serve: