Personal injuries — especially those as catastrophic as paralyzing accidents aren't something that could possibly be planned for or expected. 
When a victim is involved in an accident that results in paralysis, it can be easy to feel hopeless and as if there isn't a light at the end of the tunnel. 
While severe injuries (such as paralysis) can result in a sort of emotional paralysis and despondency, it's important for you to advocate for yourself during this time. 
Hiring an Oakland-based attorney and paralysis law firm to work with you will ensure that justice is served and that you are able to receive compensation for your physical, emotional, and mental damages stemming from the accident. 
Continue reading to learn more about where to find a reliable Oakland-based lawyer as well as the benefits of partnering with an attorney during this time or get in touch with Quirk Reed, LLP today.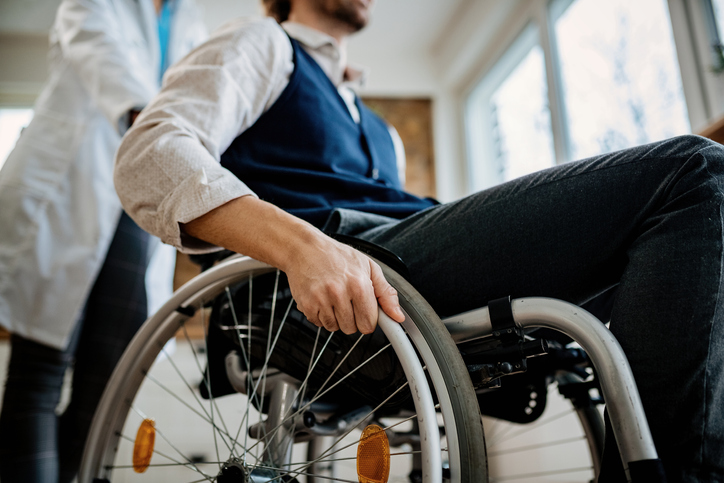 Where To Find an Oakland Paralysis Attorney
Here at Quirk Reed, LLP, we operate an Oakland-based personal injury law firm with expertise in handling paralysis cases. 
Our main attorneys, Logan Quirk and Nikolaus Reed have extensive experience working with victims of paralysis. They have each dedicated their careers, time, and knowledge to advocate for paralysis victims and have track records of successful cases to show their hard work. 
Logan Quirk graduated from the University of California Santa Barbara with high honors before going on to study at Santa Clara University School of Law. 
Nikolaus Reed is a graduate of the University of San Diego and studied law at Santa Clara University School of Law.
Together they make a powerful duo using their education and experience to help Oakland residents recover physically and financially following a traumatic accident. 
If you would like to schedule your initial consultation (free of charge) with one of our attorneys, get in touch with Quirk Reed, LLC, or fill out our contact form here. 
Types of Paralysis & Related Injuries 
How is paralysis defined? 
Paralysis is characterized by a partial or complete loss of muscle function in a specific part of your body. This loss of muscle control and function may be either temporary or permanent depending on the severity of and type of injury sustained. 
Paralysis severity is categorized in the following way:
Partial paralysis

. This is when the patient still retains some level of control over muscle function. 

Complete paralysis

. This type of paralysis occurs when the patient is unable to control the muscles in any way. 

Temporary paralysis

. This is when muscle control is regained over time. 

Permanent paralysis

. This occurs when there is a permanent loss of muscle control and function. 

Flaccid paralysis

. This occurs when the muscles shrink and lose strength. 

Spastic paralysis

. When muscles contract involuntarily and spasm irregularly. 
Paralysis type is broken down as follows: 
Monoplegia paralysis

. When only a single limb is paralyzed. 

Hemiplegia paralysis

. When one side of the body is paralyzed. 

Diplegia paralysis

. When the same body part is paralyzed on both sides of the body. 

Paraplegia

. When both an individual's legs are paralyzed. 

Quadriplegia

. When all the limbs are paralyzed (quadriplegia may also affect major organ function such as the lungs or heart). 
As you can see, paralysis is extremely severe regardless of the type of permanence. It also requires extensive medical care that could be ongoing (for weeks, months, years, or the rest of an individual's life). 
This quickly becomes an extreme financial burden for paralysis victims as the degree of medical care needed is quite high. 
A few types of treatments that may be necessary include:
Physical therapy

. This may involve massage or heat or cold therapy in order to stimulate the muscles and nervous system.  

Occupational therapy

. This type of therapy focuses on helping paralysis victims re-learn how to perform basic daily tasks. 

Assistive technology

. This could be ventilators, voice-activated technology, and other devices that enable people with paralysis to live on their own. 

Mobility aids

. These may be wheelchairs, chair lifts, ramps, or scooters that grant paralyzed victims more mobility. 

Assisted living

. Victims of paralysis may be unable to live without in-home care. In this case, professional caretakers are often the best option.
Common Causes of Paralysis
Paralysis occurs when the injury is sustained to your body's internal messaging system (the brain, spinal cord, or nervous system). 
Injuries resulting in paralysis could occur in many different ways. Paralysis could be a lifelong condition that was caused by a birth defect or complication. 
Other common causes of paralysis include: 
Spinal cord damage 

Stroke 

Traumatic brain injuries 

Multiple sclerosis 

Cerebral palsy 

Guillain-Barré syndrome

Anoxic brain injury

Peripheral neuropathy

Toxins/poisons

ALS 

Muscular dystrophy

Neurofibromatosis 

Lyme disease 

Spinal tumors 

Transverse myelitis 

Brachial plexus injury 

Friedreich's ataxia 
Health Complications That Arise Due To Paralysis 
On top of the obvious (lack of mobility and muscle control), paralysis comes with a number of other health complications. 
These include: 
Circulation and blood flow issues 

Breathing complications (which may necessitate a ventilator) 

Deterioration to muscles, bones, and joints

Blood clots 

Incontinence 

Cognitive effects 

Sexual problems 

Inability to eat without assistance

Becoming non-verbal or unable to speak without great effort 
What Compensation Should Paralysis Victims Get? 
When it comes to what sorts of damages a victim of paralysis should receive, there are a multitude of factors that play into this. 
The type, severity, and cause of paralysis all play an important role in determining what damage claims a victim should request. 
In order to determine all of these things, it's essential to work with a paralysis lawyer who has experience handling like-cases. 
Examples of damages that paralysis victims often seek out include: 
Medical costs (both current and future) 

Lost wages (current and expected) 

Emotional anguish and mental distress 

Pain and suffering 

Loss of consortium (on behalf of the spouse or domestic partner of the victim)

Punitive damages (if a negligent party was responsible for causing the paralysis)
Partnering with a trustworthy, seasoned Oakland paralysis attorney will ensure that you receive justice and are able to focus on your recovery and well-being while knowing that someone is fighting for you. 
How Is Paralysis Diagnosed? 
While a paralyzing injury may be immediately apparent, seeking out medical attention and professional diagnosis is both necessary and helpful. 
Doctors diagnose paralysis in one of the following ways:
X-ray

CT scan 

MRI 

Myelography 

Electromyography 

Spinal tap 
The method of diagnosis used for you may depend on the type of paralysis that you have sustained or the doctor's judgment. 
Benefits of Hiring Our Oakland Paralysis Attorneys
Here at Quirk Reed, LLP, our law firm is passionate about pursuing justice, exercising empathy, and assisting our clients through their difficult times. 
We have worked with countless victims of injury over the years and have witnessed first-hand the devastating impact that paralysis can have on someone's quality of life, livelihood, and happiness. 
Witnessing these tragedies has emboldened us to fight relentlessly for each and every one of our clients so that we can help them rebuild their lives following an accident. We want to be the tool that helps restore some level of stability and assurance to the lives of our clients. 
When you partner with us, you enlist the help of a seasoned, dedicated, client-focused legal firm that will walk with you through the ensuing months of recovery and legal journey. 
Some of the benefits of partnering with Quirk Reed, LLP include: 
We have expertise in personal injury law.

We have experience negotiating settlements in a professional and persuasive manner.

We will save you time and ensure that the speediest resolution possible is brought to your case.

You have a legal support system to walk you through this emotionally, mentally and financially challenging time. 

Cases involving a seasoned paralysis injury attorney are more likely to yield a satisfactory settlement for victims. 

All potential current and future damages are accounted for in the settlement number to ensure that you are not out a substantial amount of money due to expenses that you didn't choose. 

Our team will give you peace of mind knowing that your case is being handled by skilled, confident professionals. 
What To Expect During a Paralysis Lawsuit 
While each case is highly individual and progresses based on a vast array of factors, here is a general timeline for victims who are suing for paralysis injuries. 
The accident

. This is when victims need to seek immediate care for their medical needs. Medical documentation is also vital as it serves as legal records of the severity of the injuries sustained. 

Finding a paralysis lawyer

. Once the medical condition of the victim is stabilized, they should immediately begin reaching out to seasoned paralysis attorneys as this will give them the greatest chance of receiving adequate compensation. 

Legal investigation

. During this time, evidence and the details of the accident and injury itself will all be heavily scrutinized and analyzed. This is in order to determine who is at fault and how much the settlement should be. 

Settlement demands and negotiation

. If settling is the chosen course of action, the paralysis attorney will present the settlement demands.

Case filing

. After the settlement demands, the case must then be filed which may take some time. 

Negotiation

. Both parties will review the settlement and negotiate if they so desire.

 
Trial.

If no agreement is reached, the case may then go to trial where both parties will be allowed to present their case to a jury. 
This is a highly simplified overview of what a paralysis lawsuit may look like. Bear in mind that the details, level of injury, and more will all play a huge role in the timeline and complexity of the process. 
This is why it's essential to have a skilled paralysis attorney working with you throughout the duration of the lawsuit. 
How Long Does a Paralysis Lawsuit Take? 
While this can vary quite a bit, most large personal injury cases (like paralysis accidents) require a lot of time to complete. 
In general, the more severe the injuries the larger the settlement number, and the larger the settlement number, the longer the process may take. 
It may take just one year, or reaching a satisfactory settlement could be a multi-year process (though many take only one to two years). This is why it's vital to have a seasoned attorney by your side during the entire process. 
Some things which may help to expedite the process include: 
Having detailed medical documentation of the injury. 

Partnering with an experienced paralysis attorney. 

Letting your lawyer do the talking so as to avoid potential mistakes which could result in a lower settlement number. 

Having other forms of evidence as to the party responsible for your injury (eyewitnesses, photo evidence, etc.). 
Other Practice Areas:
Bicycle Accident Lawyer
Car Accident Attorney
Electric Scooter Accident Lawyer
Dog Bite Lawyer
Lyft Accident Attorney
Motorcycle Accident Lawyer
Nursing Home Neglect Lawyer
Pedestrian Accidents Lawyer
Slip And Fall Accident Lawyers
Traumatic Brain Injury Lawyer
Truck Accident Lawyer
Wrongful Death Attorney
Uber Accident Attorney
Who Is Responsible in a Paralysis Lawsuit? 
There are two main causes of paralysis lawsuits, negligence, and faulty products. These are detailed more in-depth below. 
Negligence

. This type of lawsuit arises when an individual is injured due to the negligent actions of another person or company. With negligent lawsuits, the victim's lawyer must be able to prove that the action or inaction of the defendant was directly responsible for causing the injury. 

Faulty products

. When a product manufactures or has a design flaw that results in injury, the victim may bring a lawsuit against the manufacturer. To do this, the lawyer must demonstrate that there was a lack of instruction or product warning about the potential for injury.  
Contact a Paralysis Lawyer in Oakland Today
If you are ready to get the type of legal assistance that you deserve and your condition requires, get in touch with Quirk Reed, LLP today. 
We offer an initial consultation free of charge for first-time clients where we sit down with you and discuss your injury and the details of your case in-depth in order to determine the best legal path forward. 
Besides getting immediate medical attention, enlisting the help of a seasoned paralysis lawyer in Oakland is the single most important decision that you can make for yourself. A paralysis attorney understands the complexities of these kinds of cases and knows how to effectively advocate for victims, their families, and their well-being. 
To begin your legal journey, get in touch with Quirk Reed, LLP today or fill out our online contact form here. 
We look forward to advocating for you and assisting you on your journey of recovery.