The Oakland truck accident lawyers at Quirk Reed LLP work hard to get you fair and just compensation for your truck accident injuries. The job of a truck accident attorney is to establish liability and hold the negligent parties responsible. We begin by investigating the accident and acquiring evidence that help prove which party or parties caused the accident. It takes the skill and knowledge of an experienced Oakland truck accident lawyer to get the kind of results you're counting on for your case. Contact us for a free consultation from our personal injury lawyers in Oakland and get the settlement you deserve!
Truck Accident Statistics In Oakland
Semi-trucks carry all kinds of goods across our roads, traveling endless miles to deliver the necessities we all depend on. Like any business, the owners often push their drivers beyond the limits of the law to get more done in a shorter time. Although new legislation is meant to address some of the common causes of truck accidents, their numbers continue to rise. The statistics related to large commercial crashes is nothing short of terrifying.
There are almost 12.5 million commercial large trucks and buses on the country's highways.
These trucks log more than 300 billion miles combined. The actual number of miles they travel is unknown since many trucking companies keep two sets of logbooks.
In 2017, 13.2% of all fatal crashes on the nation's roads involved at least one large truck or bus.
In 2017, there were a total of about 450,000 crashes involving large trucks on the country's highways. There were also 344,000 involving injuries.
72% of people killed in crashes involving large trucks during 2017 were occupants of other vehicles.
California is among the Top 10 States for large truck and bus fatalities from 2015 until 2017.
If you lost a loved one in a truck accident, a semi-truck accident lawyer from Quirk Reed can help you get the recovery you need to heal from your loss. Nothing can bring back your loved one. But getting the recovery you deserve can help you with the financial void the loss of your loved one left behind. Whether you are struggling financially due to the loss of your loved one, or you want justice for their loss, an Oakland truck accident lawyer at Quirk Reed can help.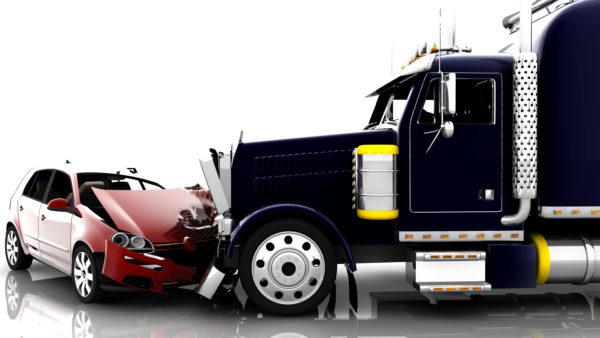 Types of Truck Accidents In Oakland
It's easy to see from appearance alone that a semi-truck is larger and heavier than a standard passenger vehicle. In addition to its base weight, many of these trucks are carrying tons of freight in the trailers. The additional weight makes it take longer to stop. If it isn't loaded correctly, it can also cause the truck to get unbalanced. The impact of a large commercial truck in a crash with a passenger vehicle is much more severe. Depending on the circumstances, any of the following types of truck accidents might occur:
Rear-end collisions where a vehicle cuts the truck off or the truck fails to slow down while the vehicle is stopped in traffic.
Jackknife accident in which the driver loses control of the truck, and it folds in on itself into a "V" shape at the point where the cab connects to the trailer.
Rollovers in which the semi loses balance and rolls over.
Underride accidents in which a vehicle slides underneath the back of a large truck, often resulting in catastrophic injuries.
Override accidents in which a truck runs over a smaller vehicle.
Head-on in which the commercial truck and another vehicle hit head-on with the impact from the speed of both vehicles.
Brake failure, often due to poor or inadequate maintenance of the truck or from defective parts.
T-bone trucking accidents are those where the truck hits the side of the other vehicle. These accidents often result in the worst injuries due to the weight and size differential between the two vehicles.
Defective truck equipment such as tires that aren't up to code.
What Are The Most Common Causes of Truck Accidents?
Fatigue
Fatigue is the most common cause of truck accidents. Many drivers are overworked, driving over long distances and failing to get the rest they need to stay alert. Although the Federal Motor Carrier Safety Administration (FMCSA) dictates how many hours or miles a driver can spend behind the while without getting rest, many push their drivers to deliver goods to destinations in short periods of driving time. Too many hours behind the wheel results in a loss of coordination, reaction time, and coordination. Sometimes they fall asleep at the wheel.
When you're the victim of driver fatigue, you need an experienced truck accident lawyer to prove liability and get compensation for your injuries. Your Oakland truck accident lawyer will almost always include the truck driver in the case. But the truck company owner or manager might also be liable to some degree.
Driving Under the Influence
Causing an accident while under the influence of alcohol or drugs is another case where charging the driver seems obvious. Again, the trucking company or manager might share the liability for their hiring practices or failing to implement a drug-testing program.
Poor Driver Training
Some trucking companies push new drivers through minimal training before allowing them to drive huge commercial trucks on our roads and highways. They turn drivers with no experience and little training lose on the roads and put your life at risk. In these cases where an accident happens and causes serious injuries or death, the company owner probably has the greatest liability. Your semi-truck accident attorney can help you understand who is liable and who to include in your lawsuit.
Poor Truck Maintenance
Sometimes truck companies cut corners by purchasing low-quality parts or failing to keep their vehicles maintained. For example, allowing the tread on the tires to get below the recommended level could cause a blowout. Truck companies and private truck owners must keep their trucks in top driving condition before allowing them on the road.
The only thing more dangerous than a poorly trained driver or a poorly maintained truck is combining the two. It also increases the liability of the truck driver whenever these poor choices result in a severe or fatal crash.
Speeding
One way that truck drivers try to reach their destinations quickly is by driving continuously without a break. Another is speeding. When other factors such as inclement weather slow them down, they might try to make up for the lost time by speeding. This reduces the control they have over their trucks and increases the force on impact when a crash happens.
Distracted Drivers
Bored truck drivers are always looking for something to keep them occupied. They might change the radio station, read and reply to text messages, or make calls on their cell phone. Any source of distraction takes their eyes and their focus off the road, increasing the risk of accidents. It only takes an instant for an accident to happen.
What to Do After A Truck Accident in Oakland
After your truck accident, the professionals recommend that you take the following steps:
Stop and report the crash by calling the authorities
Call 911 if you need immediate medical help
Document your injuries and take pictures of the accident
Ask for contact information from the truck driver and witnesses
Finally, you can secure legal assistance from an Oakland truck accident attorney. A truck accident law firm can help you report the accident to your insurance representative. Your lawyer can also provide you with additional guidance about your next legal steps.
Common Injuries After a Truck Accident
A truck accident lawyer can step in to assist you if you sustain an injury in your collision. Examples of common injuries include:
Back, Neck, and Spine Injuries
Back and neck injuries can occur when you are jerked around in a collision. Whiplash is an example of this kind of injury.
Head and Brain injuries
These injuries may occur if your head strikes the window or steering wheel. A truck accident lawyer takes concussions and traumatic brain injuries (TBIs) seriously.
Burn Injuries
Fires can happen in a truck accident, especially if the truck's fuel ignites. You may also experience chemical burn injuries from a vehicle that was carrying hazardous cargo.
Amputation and Disfigurement
Accidents involving large trucks can cause a lot of damage. Some of these accidents may result in the loss of an arm or a leg. Semi-truck accident attorneys can help after accidents that result in paraplegia or quadriplegia.
Internal Injuries
Not all injuries are immediately evident after a collision. Internal injuries reflect damage to your organs, like your kidneys or your liver. Trucking accident lawyers recommend that you seek medical care after an accident to make sure doctors can identify all injuries quickly.
Broken Bones
Broken bones – especially in the arms or legs – are a common result of a collision with a large truck. However, you can also contact trucking accident attorneys if the accident broke other bones, such as your ribs or bones in your hips.
Wrongful Death
Finally, sometimes truck accidents in Oakland have deadly consequences. Trucking lawyers can provide your family with the compassionate assistance and understanding you want after losing a loved one. We understand how to file a wrongful death claim to help you secure compensation for your losses.
Oakland Truck Safety Regulations
The city of Oakland has issued some regulations to promote truck safety.
What are Truck Routes and Prohibited Streets?
Trucks travel on major routes like an interstate:
Trucks over 80,000 pounds face restrictions for using more than 3,000 miles of highway through California. You can learn more with a semi-truck accident lawyer.
Where Is Truck Parking Prohibited?
Legally, trucks are not permitted to park in residential districts or streets the City Council designated. Additionally, trucks cannot park for over 72 hours on any city street. Finally, the truckers cannot leave their trailers on streets with signs that prohibit this action.
Truck Accident Compensation
An Oakland truck accident attorney can help you learn more about the following forms of compensation:
Economic Damages
Economic damages cover expenses like your medical bills or lost wages at work. Focus on securing these damages with a commercial truck accident lawyer.
Non-Economic Damages
You may secure non-economic damages to cover things like your pain and suffering. Find the best truck accident attorney to focus on non-economic damages.
Punitive Damages
Punitive damages serve to punish the driver who caused the accident. You can file a truck accident lawsuit with the best truck accident lawyer if you want these damages.
Contact Quirk Reed & Speak With An Experienced Oakland Truck Accident Lawyer Today!
The sheer weight, size, and speed of large trucks make truck accidents more severe. The injuries you get from a truck accident might last for the rest of your life. You only have one chance to get the compensation you deserve for your injuries. Contact Quirk Reed to schedule a free case evaluation. Get the help you need to heal and get back to life as normally as possible.
Other Practice Areas:
Areas We Serve: