Residents should know a reputable Oakland electric scooter accident lawyer just in case they get involved in an e-scooter accident. Electric scooters (e-scooters) are the latest alternative mode of transport in California because they are easy to use, widely available, and have a low carbon footprint.
The new scooters use electricity as the source of energy, making them a better alternative to cars that cause pollution. The leading electric scooter companies operating in Oakland are Bird and Lime who have revolutionized the e-scooter into an efficient transport machine.
The fact is e-scooters may become a standard form of transport very quickly as legislators (and scooter companies) are working hard to legalize them everywhere. Therefore, it's important to understand all the details about them — especially what happens after a scooter accident. Always contact an Oakland electric scooter accident lawyer for any questions.
How Does The Electric Scooter Service Work?
Whether the electric scooters are from Skip, Bird, or Lime, they operate similarly. The scooters are distributed all around Oakland by rental companies.
There are a lot of electric scooters all over the city and in the hands of users with no experience. Only registered riders can use the e-scooters. Yet many young people are open to utilizing the alternative form of transportation.
The rider unlocks the scooter, rides their destination, parks, locks, and leaves. The next nearby riders come and repeat the process. The rental companies have no way of tracking injuries to motorists or faulty scooters. Faulty e-scooters are known when a user who is concerned reports it (then the company deactivates the scooter).
What Are The Statistics On E-Scooter Accidents In Oakland?
E-scooter marketing mostly focuses on having fun and evading traffic jams. However, the reality is that accidents do sometimes occur. This often happens thanks to people going too fast or being inexperienced.
Since the introduction of electric scooters in the US in 2017, there have been more than 1,500 accidents. 8% of the accidents were to non-scooter drivers who trip or get hit while using the sidewalks. Less than 5 % of e-scooter users wear helmets as the companies do not necessarily promote safety.
Over 40% of the injuries include injuries to the head with some cases leading to internal bleeding. There is a rising concern of the dangers e-scooters pose to public health because there are few laws that govern the use of e-scooters in California.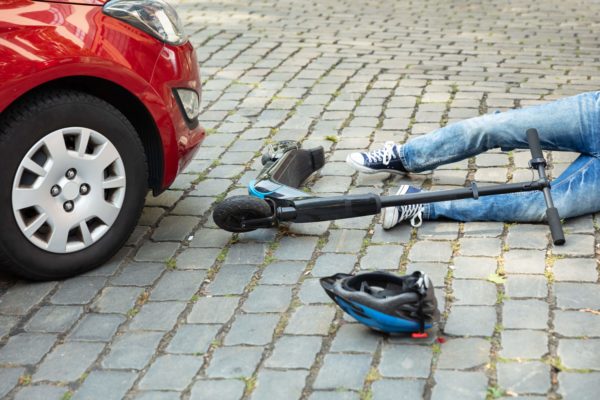 Why Should You Sue After An Electronic Scooter Accident In Oakland?
There are cases where electronic scooter accident victims get admitted in the hospital to recover from the injuries. Some victims cannot cover the hospital bill, while others miss significant income-generating opportunities.
It is not always clear who takes the blame for scooter accidents. This is why you need to consult a scooter accidents lawyers like Quirk Reed, LLP.
A lawyer will evaluate your case and tell you to know if you can get compensation when you sue. The laws governing the use of electric scooters are relatively new and still changing, which makes it tricky to protect the rights of citizens.
An Oakland electric scooter accident attorney can ensure you get maximum compensation from the insurance company or the scooter company. When you hire legal representation, the law firm can conduct thorough investigations and understand the cause of the accidents. The scooter accident lawyer will also advise you on the best way to proceed to get a favorable outcome.
What Are The Most Common Reasons For Electric Scooter Accidents?
Poor riding skills
The e-scooters can have a maximum speed of 15 mph, which is pretty fast speed. Most riders cannot handle going that quickly. But that does not prevent them from going full speed.
Some e-scooter riders are merely looking for a thrill that ends up in an accident. The e-scooter companies have a short tutorial that the users watch before registering for the app that controls the scooters. The tutorial is in no way a proper vetting process for the competence of the riders.
Most riders get injuries when they fall off the scooters or when they collide with other moving objects.
The rider is responsible for any injuries or damages that may arise from the use of the e-scooter. What that means is that the user is therefore liable for medical expenses that may arise from injuries to a third party.
Malfunction of the e-scooter
Scooter companies have different approaches for mechanical repairs and maintenance of the e-scooters. Lime has a team of mechanics who keep the scooters running while Bird and Skip use freelance mechanics.
There are numerous cases where riders get on an e-scooter only to realize it has faulty brakes. Faulty breaks, lack of maintenance, or slow response to malfunctions can be among the reasons that users fall with the scooters. In such a case, the company is liable because it is responsible for repairs and maintenance.
Poor parking
E-scooters use an app to lock and unlock a scooter. The scooter companies market the ease of park and lock after renting the e-scooter encouraging riders to park anywhere. The e-scooters are dockless and often end up on sidewalks, corners, parking lots and even in handicap parking spaces.
This issue is quickly turning into a menace since parking is frequently responsible for injuries in non-riders. Sidewalk users trip on the scooters getting minor injuries like fractures or broken bones.
The e-scooter rental companies are liable for damages due to irresponsible parking. The rental companies never established appropriate parking areas for the scooters in Oakland when they were launching.
Contact Us To Speak With An Electric Scooter Accident Lawyer In Oakland Today!
Quirk Reed, LLP has Oakland electric scooter accident lawyers who will aggressively follow your claims from the insurance company after an accident. You can get a free consultation with a top tier electric scooter accident lawyer at Quirk Reed, LLP for your potential case.
You are in good hands when our scooter accident attorney is representing you. Electric scooter accidents were unheard of before 2017 but are steadily increasing and so are the lawsuits. Most scooter accident lawsuits end up in litigation out of the courtrooms, and victims need a skillful attorney for the litigation process.
Insurance companies always try to find ways to minimize payouts each year. The main interest of any insurance company is to increase the profits of the company and not the customers. Don't let this happen to you.
Consult Quirk Reed, LLP today and get the maximum compensation for your scooter accident injuries. You can contact us by phone to book a free consultation at a time that is suitable today.
Other Practice Areas: