With millions in the state cooped up in their homes during the coronavirus (COVID-19) crisis, Californians are looking for safe ways to get outside, breathe fresh air, and move their bodies. Cycling is a fantastic way to soak up some sunshine and exercise, but the rules and social expectations for bicycling in California during the coronavirus pandemic are different than they were pre-COVID-19. Find out what you need to know about riding a bike outdoors right now and what you can do to ensure the health and safety of yourself and others.
Does the California Lockdown Include Biking?
On March 17th, residents of nine Bay Area counties were told to stay home. Two days later, on March 19th, California became the first state to issue a statewide lockdown in response to the spread of the virus. At that time, 19 people in the state had died and over 900 had tested positive.
This early action to encourage wide-scale social distancing has, according to experts, helped to slow the spread of COVID-19 in the state. Despite having the largest population in the country and experiencing some of the earliest known cases of the virus in the United States, the total number of coronavirus-related deaths in California as of early April is a fraction of the number of fatalities in other states such as New York, New Jersey, and Michigan.
For California's stay-at-home order, Governor Gavin Newsom outlined mandatory restrictions, which will remain in place indefinitely. Everyone in the state should stay home unless they are going out for essential activities such as buying food, picking up prescriptions, attending doctor's appointments, and commuting to jobs considered critical.
What about biking – is bicycling in California during the coronavirus pandemic considered essential?
According to the order, leaving the home for walks and another exercise is considered essential. This means biking is fine, as long as you practice social distancing.
Is Safe Biking and Social Distancing Possible?
According to social distancing rules, gathering in groups is not okay, and you always need to maintain a six-foot distance between you and other people. So, when biking, you have to have a fair amount of space between you and another cyclist. This isn't easy to do if you're biking together on a bike path or the shoulder of a road as there isn't usually enough space.
Also, even simply biking with a friend and keeping a six-foot distance can still put you or your biking partner at risk. This is because if someone coughs or sneezes, droplets can get onto objects or into the air. Even with six feet of physical distance, there's still the risk of touching a contaminated surface and then touching your face, which can help the virus spread. And, because COVID-19 can be spread by individuals who are asymptomatic, there's no guarantee you won't catch the disease – or spread it yourself – if you're sharing space with someone else, no matter how healthy you feel at the moment.
The best advice medical and health experts are giving for outdoor exercise is to go solo. Ride by yourself. Or, you can ride with the people you're already living with and sharing space with at home, such as your partner. It's also a good idea to bike in areas where there aren't a lot of other people. Go out during times when bike trails and roads are less busy. This will minimize the chances of the virus spreading.
What About Wearing Face Masks?
California has been recommending the use of a cloth face covering when in public since the start of April. The purpose of wearing face masks is to potentially limit the spread of the virus when people are in public spaces such as grocery stores and public transit stations. Because people can spread the virus when they don't have any symptoms, having everyone wear a face mask makes public spaces safer.
What about when you're exercising outside by yourself – should you cover your mouth and nose? As long as you're in a place where you're not encountering other people, a cloth face covering isn't necessary. Matt Ferrari Ph.D., associate professor of biology in the Eberly College of Science and a researcher with Penn State's Center for Infectious Disease Dynamics, says there's no added benefit of a face mask if you're not going to be near people.
On the other hand, if you're going for a bike ride through the park or on trails frequented by other bikers and joggers, you may want to consider a cloth covering. However, because you may be breathing heavily while riding, which means you'll get your face mask wet during your workout, it's a good idea to opt for a moisture-wicking face covering. Once a cloth mask becomes wet or damp, it's not going to be as effective.
Biking safely all comes down to distancing. The more you can avoid people completely, the better. With cycling, it's relatively easy to keep a distance, especially if you go out at the right times and bike where there aren't a lot of other riders.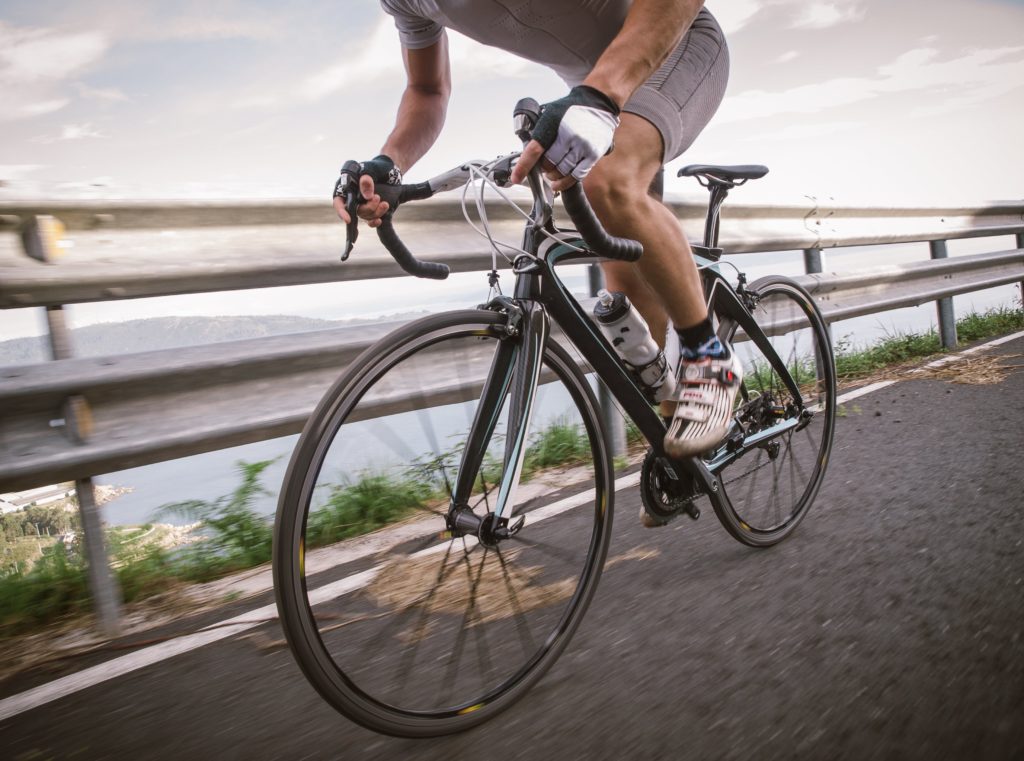 What About Bike Share Services?
Bike and scooter share companies in California, including Uber and Lime, started suspending services in March. A spokesperson for Lime explained the service pause saying, "Loving cities means protecting them too. For now, we're pausing Lime service to help people stay put and stay safe."
Avoiding shared bikes and scooters may be a smart way to be safe during the pandemic, and in many areas of the country, they aren't available right now. If someone who was ill, used the bike before you, it's possible they could leave the virus on the handlebars.
Are Intense Rides Safe?
Going for a long bike ride can really help to relieve stress and give your body a great workout. Still, you may want to avoid intense workouts until the threat of COVID-19 has passed. When you exercise, you deplete your stores of glycogen. When this happens, your immune system is temporarily weaker, which means, right after a hard ride, you could be more vulnerable to getting sick. Dr. David Neiman, health professor at Appalachian State University, recommends exercising but not overdoing it. He says that cyclists should avoid intense rides and intense workouts in general.
What About Bike Repairs?
Bike shops are open in California during the coronavirus pandemic. Even with the statewide stay-at-home orders in place, you can still stop by your local bike shop for a repair or to purchase any cycling essentials or even a new bike. Bike repair shops, as well as auto repair and supply shops and other related facilities, are considered essential services.
Just keep in mind social distancing when visiting the store. A good practice is to call ahead instead of stopping in for a repair. Ask about the best time to visit to avoid busy periods and find out if you can pay online or over the phone to limit your exposure to other people. Also, many businesses are enacting specific protocols to protect their employees, so it's always a good idea to call ahead and find out if there's anything you should know before you go.
Reasons to Bike During COVID-19
It's not just that bicycling is acceptable in California during the coronavirus. It's also a smart way to stay in shape. Riding can help to keep your immune system strong. One study found that, as long as you're riding to the point where you're working your body and breathing harder than normal, you're helping to boost T-cell production. These cells are critical in immune health. Just don't push it too hard and wear your body down.
Getting outdoors and riding a bike can also support your mental health. During this unprecedented global crisis, it's easy for levels of stress and anxiety to increase. This isn't good for your mental well-being, let alone for your immune health. Regular exercise is incredibly important right now as staying healthy may make a difference in how your body responds to the virus.
Another important reason to ride is that bicycling can be safer than other means of transportation. If you usually take public transportation to travel to the grocery store or to work, during the coronavirus pandemic, you may want to switch to your bike. On public buses and other forms of transportation, you're exposed to more people and more surfaces. On a bike, you're all alone so you're already taking an important social distancing step. Not only that, but you're leaving more open space on trains and buses for those who don't have any other options.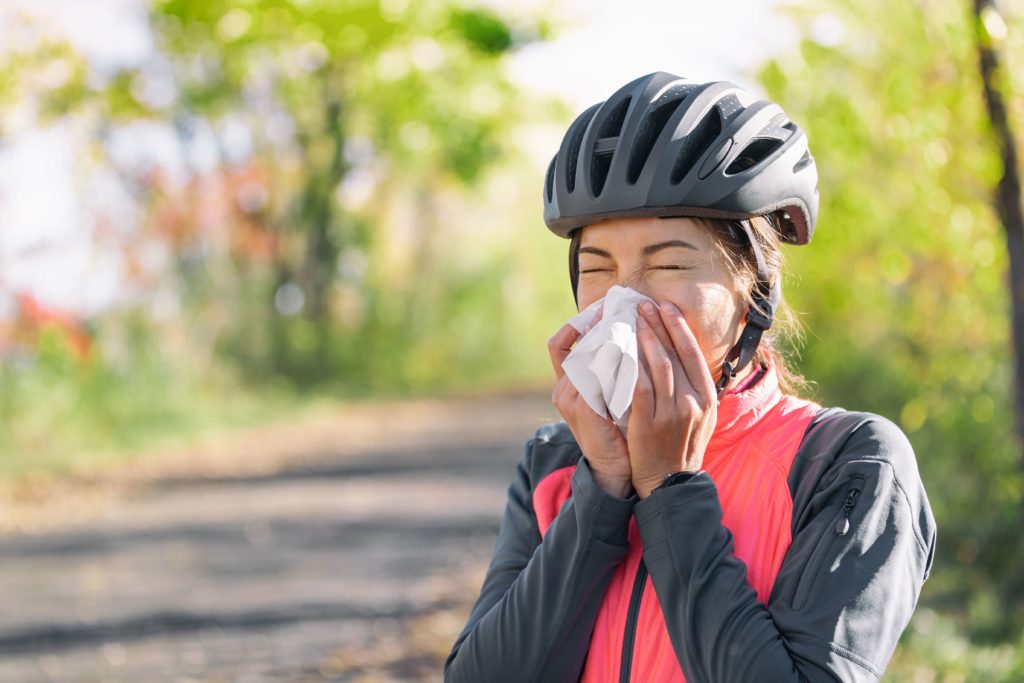 Reasons Not to Bike During the Coronavirus Pandemic
While biking has many health benefits and, for some, it may be a safer way to travel for essential reasons, there are a couple of very good reasons why biking may not always be a good idea during the coronavirus pandemic.
If you're experiencing symptoms of COVID-19, don't bike at all.
The number one reason to stay indoors completely is if you're sick. If you have any symptoms such as coughing, fever, fatigue, and difficulty breathing, stay in and call your health care provider to make sure you're okay. You may not have the coronavirus just because you're coughing, but it's better to be safe and avoid going out at all to help contain the virus.
If more restrictions are introduced.
Right now at the beginning of April, biking outdoors is considered safe for individuals, and the general public. That doesn't mean things won't change. As more data comes in and as health experts learn more about COVID-19 and how it spreads, it's always possible for rules on bicycling in California to change.
What Happens if You Get into a Bicycle Accident?
When riding outdoors, be sure to be diligent about following standard safety practices. Wear a helmet. If riding at dawn or in the evening, wear reflective clothing. Always follow all of California's road laws.
Still, no matter how safe you are on your bike, accidents do happen. In normal times, a bicycle accident can be a very stressful event. Depending on the circumstances, you may have to spend time healing injuries. If you were struck by a motorist or if the accident is someone else's fault, you'll also have a legal process to go through.
During the coronavirus, accidents can be even more difficult to deal with. There are a couple of reasons for this. First, California's hospitals are already strained as there are so many people fighting the virus who need care. You may feel like you're just adding to the burden of the health care system.
Second, traveling to appointments and interacting with people isn't always possible. You can't just ask your neighbor to come over and drive you to a medical appointment or to help in other ways. Also, your appointments may be virtual or modified in some way to help keep you and others safe.
If you're injured, you should still seek medical attention if you're in an accident. Health professionals are taking measures to keep patients and themselves safe and are still handling necessary health issues, including injuries from bicycle accidents.
It's also important that you seek care right away in case you need to make a claim against an at-fault party to recover damages. By contacting your doctor and getting the care you need, you can start recovering faster. You'll also be able to gather important information that may be used to prove the extent of your injuries.
You should also contact an experienced California bicycle accident attorney to ensure someone is looking after your legal rights. The coronavirus pandemic has changed life in many ways and will certainly leave a lasting impression on society. But, your health and well-being still matters.
If you've been injured in an accident while riding your bike, contact Quirk Reed for a free consultation. We can talk over the phone, and we have processes in place to ensure safe, secure communications with our clients every step of the way. Social distancing may be in effect in California, but you're not alone and you don't have to face an accident without the help and support you deserve. We're here for you when you need us.