California bicycle laws are useful for both California bicyclists and drivers to know so that you can protect yourself and others from injury while on the road. Based on Article 4 of the California Vehicle Code which contains bicycle laws, bicyclists have nearly the same rights and responsibilities as car drivers. In addition to these laws, your county may have its own rules pertaining to bike riding. In this article, we shall look at the 2020 California Bicycle Laws and know more about what you can do if you have been in a bicycle accident in Oakland.
BICYCLE STATUTES IN THE CALIFORNIA VEHICLE CODE (CVC): EQUIPPING A BICYCLE
CVC 21200 outlines a general rule for operating a bicycle on the road. According to this, all bicycle riders share the same responsibilities and rights as car drivers. This means that a bicyclist must follow all traffic signals, stop at stop signs, yield right of way, and share the road with pedestrians and vehicle drivers.
CVC 21201 explains the minimum equipment requirements expected of all bicycles. All bikes are required to have brakes that allow the rider to stop on one wheel on a dry and clean pavement. Handlebars of a bicycle should be lower than the bicycle's shoulders. The size of a bicycle should be small enough for the bicyclist to start safely, put one foot on the ground without falling off, and stop when the bicyclist wants to.
Further, all bicycles that are operated at night are required to have white headlights and a red reflector on the bicycle's back. The pedals should have yellow or white reflectors visible from both the front and the back. California law allows bicyclists to have a white light source visible from a distance of 300 feet instead of white headlights as well.
Finally, all bicycles must have a fixed and regular seat. The only exception is if the bicycle was designed to have no seat. Passengers who weigh less than 40 pounds should have a seat that keeps them in place and protects them from moving regions.
OPERATING A BICYCLE
CVC 21200.5 mandates that bicyclists are prohibited from driving under the influence of drugs and alcohol. If suspected, a cop may ask you to breathe into a breathalyzer or request a blood or urine sample. The fine may be up to $250 and violations are pursuant to Section 13202.5.
CVC 21202 tells you where a bicyclist may ride if going slower than the speed of traffic. A bicyclist should stick to the right-side curb. Exceptions apply when preparing for a left turn or while passing another cyclist. You may also be exempted if you were riding under hazardous road conditions or if the street lane is narrow and does not allow lane sharing. Another exception is if you are approaching a place where a right turn is authorized.
CVC 21203 prohibits hitching a ride from other vehicles while riding a bike or even attaching your bicycle to another vehicle while on a public roadway. CVC 21205 prohibits a rider from carrying any object that refrains them from holding at least one handlebar. Further, bicyclists are prohibited from parking their vehicles in a manner that obstructs the path of pedestrians (CVC 21210).
According to CVC 21206, ordinances passed by local authorities can regulate parking and registration of bicycles if they do not interfere with the California Vehicle Code. It is important to be aware of local ordinances concerning registration and parking. Local authorities can also establish bicycle lanes on highways other than state highways through ordinances (CVC 21207).
BICYCLE LANES
Per CVC 21208, when a rider is travelling on a bicycle lane in the same direction as traffic but at a slower speed, the rider should remain on the bicycle lane. Exceptions to this rule include overtaking a pedestrian or another bicyclist or an attempt to avoid a hazardous condition. While preparing to make a left turn at an intersection or a driveway, the rider may leave the bicycle lane. The rider can leave the bicycle lane after observing if it is safe to do so and signaling to nearby vehicles and pedestrians.
Bicyclists receive special protection according to CVC 21209 which states that cars may not enter a bicycle lane. Exceptions apply when cars have permission to park, while entering or leaving a roadway or while preparing to turn within a distance of 200 feet. Motorcyclists can enter bike lanes as long as they are driving at a safe speed, not threatening a bicyclist and are visible to drivers nearby. Further, CVC 21211 makes it unlawful for anyone to block or park in a bike lane for any reason unless authorized to do so.
ENSURING SAFETY WHILE RIDING A BICYCLE
CVC 21212 requires all bicycle riders and passengers under the age of 18 to wear an approved helmet while travelling on a bike. Helmets should satisfy requirements set by either the United States Consumer Product Safety Commission or the American Society for Testing and Materials. Violation of this rule results in a fine of not more than $25 for which parents are held liable.
According to a new law that went into effect January 1st, 2019, individuals below the age of 18 years are required to wear an approved helmet while operating an electric scooter. Persons above 16 years of age who ride an electric scooter on a public roadway are not required to wear an approved helmet. For safety reasons, it is best to wear a helmet while driving an electric scooter.
While riding a bicycle, all bicyclists are required to ride in the direction of traffic (CVC 21650). It is unlawful to ride in the opposite direction. CVC 21960 outlines that bicycle use on freeways or highways may be controlled by local authorities. Look for signage indicating whether you can ride your bicycle on a freeway.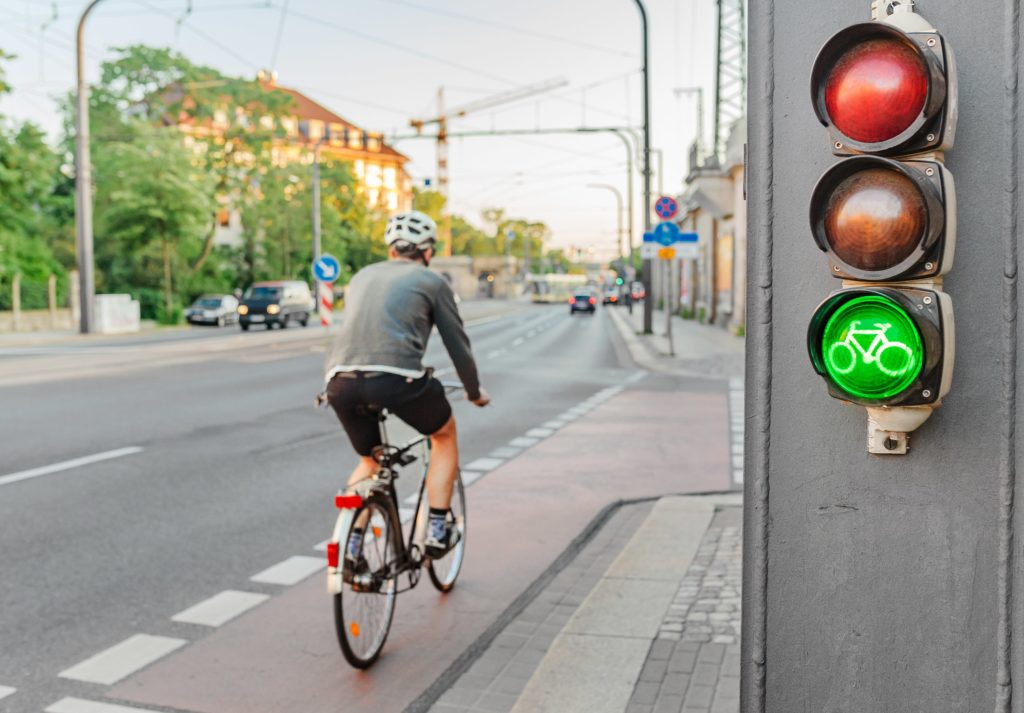 TURN SIGNALS AND TOLL ROADS
Through CVC 22111, the state of California has standardized hand signal use by bicyclists. A left turn is indicated when the hand is extended horizontally to the bicycle's left side. A right turn is marked by a horizontal extension of the hand to the right side of the bicycle. When a bicyclist puts their hand down and parallel to the bicycle, the rider is indicating lowering of speed. All vehicle users should be aware of these hand signals and what they represent.
Bicycles are not permitted on toll bridges unless the Department of Transportation has specifically authorized it.
USE OF HEADSETS AND PHONES WHILE BIKING
Bicyclists are strictly prohibited from using ear plugs or headphones while operating a bicycle on a roadway (CVC 27400). This rule exists to ensure that the rider can hear horns and is aware of other movements in traffic. Exemptions are allowed for licensed emergency vehicle users and those who wear ear plugs to prevent injury caused by loud noises. Those who use such ear plugs are required to wear devices that allow them to hear sounds like a siren from an ambulance or a horn from a vehicle behind.
In California, the law does not prohibit a bicyclist from using their phone while riding. However, it is best to avoid using one while on the road since it can be distracting and drive your attention away from the road thereby increasing the risk of an accident.
A RIDER'S DUTY OF CARE ON ROADWAYS
Like motorcyclists, all bicycle riders should adhere to their duty of care while on the road. A bicyclist who is riding on a one-way street with two or more lanes might ride near the left curb or the roadway's edge. Bicyclists are not allowed to give rides to people on their bike unless there is a permanently attached seat on the bike.
Under California law, it is illegal for any motorist to throw items from a moving vehicle to a roadway or to an adjoining pathway like a bike lane. Bikers could be exposed to serious health hazards from roadside debris. These include bottles, cigarettes, cans, nails, wire, glass, or any other item that could cause injury to a pedestrian or a bicyclist.
CAUSES OF BICYCLE ACCIDENTS IN OAKLAND
Oakland records a high number of accidents each year resulting in serious injuries and fatalities. A bicycle rider is at greater risk of such damages- in almost all collisions between a bicycle and a motor vehicle, the fault is usually that of the vehicle driver. If you are a victim of a bicycle accident, consult an experienced Oakland bicycle attorney to learn more about handling your accident claims.
A higher number of bicycle accidents happen each year in the United States. Drivers of motor vehicles usually do not respect the rights of bicyclists or pay them the same attention as another motor vehicle. A bicycle's small size makes it easy for it to be in the driver's blind spot. This might cause it to collide with a vehicle if the driver does not look around prior to changing lanes.
Sometimes drivers also make sharp right turns in front of oncoming bicycles, open their car doors while they are approaching, or sideswipe them as they drive past. Such instances result in serious accidents for bicycle riders. California bicycle laws have been enacted to protect riders from such incidents and give them similar rights as motor vehicle drivers.
The city of Oakland is making attempts to make roadways more friendly to bikes as more people turn to riding bikes for commuting to work or school. Their efforts include making intersections less dangerous and shifting bike lanes out of loading zones. These efforts have proved to successfully reduce bicycle accidents in the past. However, all vehicle drivers should obey and respect bicycle laws so that the probability of accidents can diminish greatly.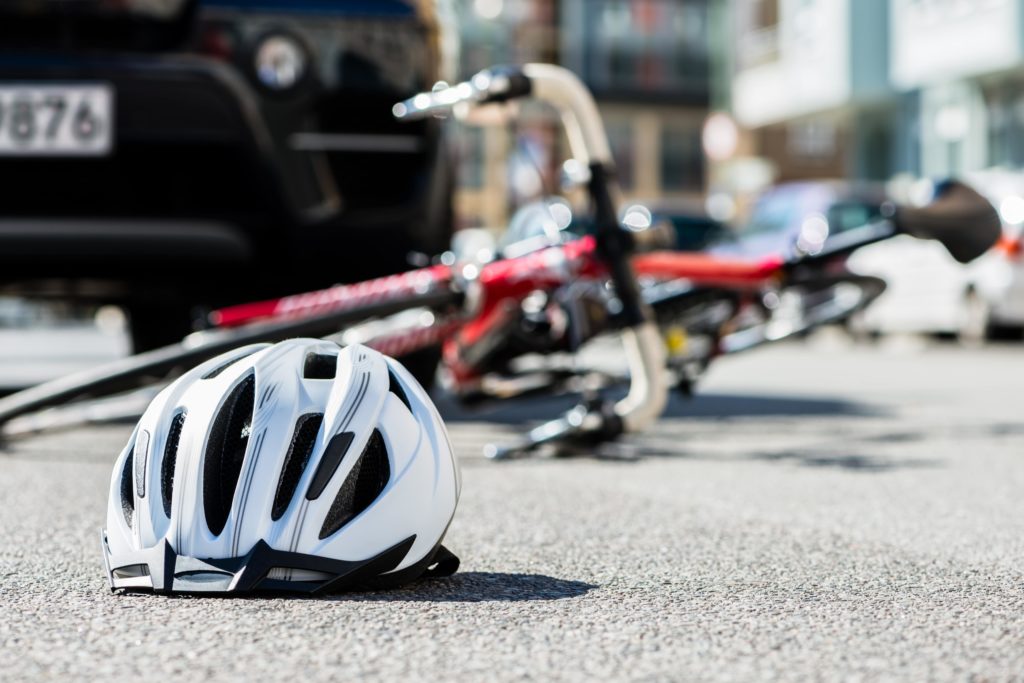 WHY SHOULD YOU CONSULT A BICYCLE ACCIDENT ATTORNEY?
Hiring a bicycle accident attorney will help you in many ways. A lawyer will work with you to settle your insurance claims. An experienced lawyer knows how to handle insurance companies. They also know how much your claim is worth and will fight till you get a fair settlement on your claim.
When victims do not hire lawyers, insurance companies often use the victim's lack of legal expertise to build a case against them. They may offer the victim an unfair and low settlement and tell them that it is their only option. They may argue that the accident was partly the victim's fault or that the injuries are not as serious. Insurance companies will try to keep as much of their money as possible and deny you a fair compensation.
This is where a bicycle accident lawyer can help you. If you contact a lawyer immediately after the incident takes place, they can gather valuable evidence and assess your case. Waiting until later might lead to a loss of evidence and give the driver's insurance company an opportunity to take advantage of your situation.
A bicycle accident attorney will investigate all details and secure all relevant evidence. They will then work with the insurance company to negotiate a settlement for you. The compensation which you receive will be based on your injuries and damages to your bicycle. It will also depend on the type of compensation allowed by your state.
COMPENSATION FOR A BICYCLE ACCIDENT VICTIM
California permits a bicycle accident victim to receive compensation for property damage, current and future medical costs, and incidental expenses. You may also get compensation for lost wages and earning potential, emotional troubles, pain and suffering, and loss of life enjoyment. If you lost a parent or a spouse in a bicycle accident, you can be eligible to receive compensation for loss of spousal or parental support. You may also be compensated for loss of spousal relations.
Other types of compensation that you may receive include punitive damages if the driver causing the accident behaved in an aggressive manner. If you were struck by a hit-and-run driver, you could also get your damages covered if you had a motor vehicle insurance policy with uninsured motorist coverage. A bicycle accident lawyer will work rigorously to recover damages and give you the compensation that you deserve.
If you were in a bicycle accident in Oakland, contact the Quirk Reed law firm attorneys for a free consultation of your case.