"Where can I find a motorcycle accident lawyer near me?" Many people only think to ask this question once they have been in an accident. If you live in San Leandro, CA, and ride a motorcycle, keep the number for the Quirk Reed law firm handy in case you need a motorcycle accident attorney or personal injury lawyers.
Our law firm focuses on motorcycle accident cases, and we can help you if you:
suffered injury due to an accident involving your motorcycle
sustained damage to your motorcycle in an accident
face charges or receive tickets while riding your motorcycle
Motorcycle Accident Statistics in San Leandro, CA
Over two thousand motorcycle crashes between 2014 and 2018 in California involved a fatality. This makes California one of the most dangerous states to ride a motorcycle in. In Alameda County, motorcyclists are disproportionately likely to be involved in motorcycle crashes, and speeding contributed to 35% of these crashes. Headlines constantly announce deaths and injuries from motorcycle crashes in San Leandro, CA. These sobering statistics should not keep you from riding, but when you ride, you should be aware of the rules of the road and your rights as a motorist.
San Leandro Motorcycle Accident Lawyer Firm – Quirk Reed
No matter what brings you to seek a motorcycle accident lawyer, it would help if you had someone with empathy, willingness to listen, deep knowledge of the law, and commitment to fight for clients with diligence and passion.
Logan Quirk and Nikolaus W. Reed are experienced motorcycle accident attorneys who understand complex legal procedures and know how to present a compelling case in the courtroom. They will fight to make sure that the judge hears your side of the story in the courtroom. They are knowledgeable about traffic law in cases that involve motorcycles, electric scooters, pedestrians, and trucks, as well as typical car crashes.
Common Causes of Motorcycle Accidents
Speeding
Excessive speed prevents drivers from reacting quickly enough to sudden stops, lane changes, road obstructions, or inclement weather. Speeding leads to loss of vehicle control and worsens motorcycle crashes' physical and psychological toll.
Inattentive Car and Truck Drivers
Car and truck drivers often fail to see motorcycle drivers on the road. They may report that a motorcyclist "came out of nowhere" when in fact, the driver of the car or truck had the responsibility to be attentive. Motorcyclists are particularly at risk when drivers turn or change lanes.
Drunk and Drowsy Driving
A driver will be even less likely to notice and respond appropriately if fatigue, alcohol, or drugs have impaired their driving ability. They are also less likely to exercise sound judgment when driving.
Misunderstandings About Lane Sharing and Splitting
California law allows motorcyclists to share or split the lane with other drivers. Other drivers, particularly those from out of state, might not acknowledge or respect your rights to share lanes on the road. Police officers might not understand the peculiarities of California traffic law. Your motorcycle crash lawyer is responsible for defending you against misunderstandings by other drivers and the legal system when they fail to respect your rights.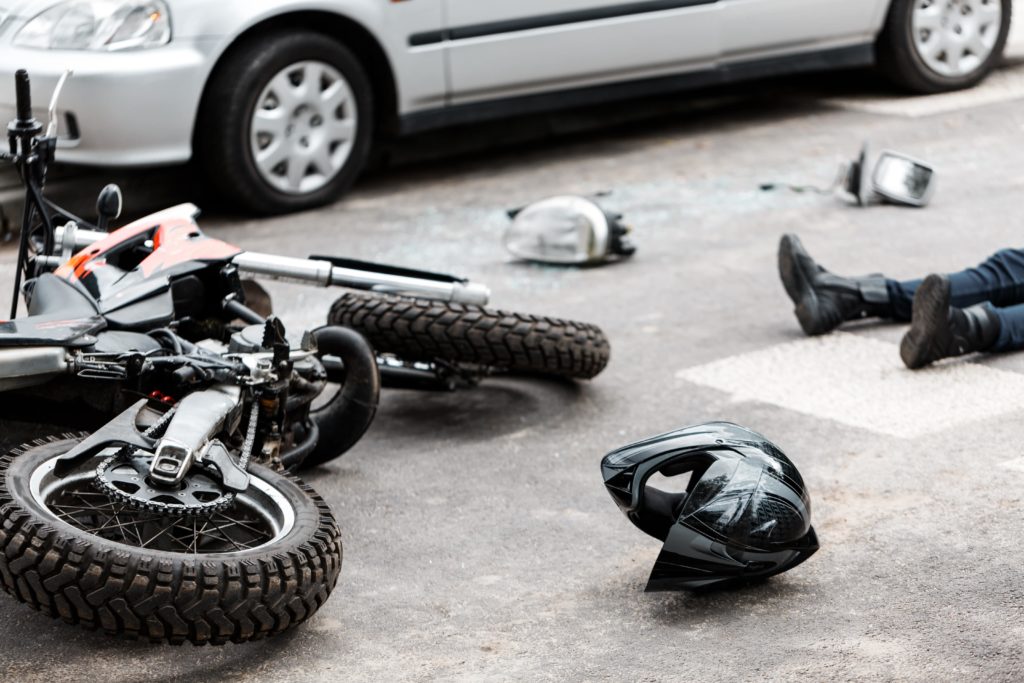 Common Motorcycle Accident Injuries
Motorcycles don't weigh as much as cars and offer less protection than cars during a traffic accident. Unfortunately, this means that motorcyclists often suffer worse injuries and damage to their vehicles compared to other motorists. Motorists and law enforcement don't always appreciate the risks that motorcyclists face. Injuries that motorcyclists often suffer after a crash include:
Road Rash
Asphalt, gravel, broken glass, and other debris can cause severe lacerations, abrasions, and blood loss.
Fractures
The impact with the road or another car can shatter arms, legs, facial bones, and vertebrae, leaving motorcyclists to face long recoveries.
Traumatic Brain Injury
During a crash, the forces on a motorcyclist's head and neck can cause permanent brain damage, especially if the helmet does not function normally.
Paralysis
Damage to the spinal cord and nerves in the shoulder and legs contribute to permanent paralysis and consequences, including amputation, paraplegia, and quadriplegia.
Types of Motorcycle Accidents
T-Bone Accidents
Car and truck drivers sometimes glance at cross streets before either accelerating from a stop sign or blowing through one entirely. In their haste, they might miss a motorcycle approaching from the left or right, resulting in a T-bone collision.
Sideswipe Accidents
Lane changes are particularly hazardous for motorcyclists. A driver might not see an approaching motorcyclist when changing lanes.
Rear-end Collisions
A motorist might not notice that a motorcycle needs to stop abruptly or might fail to react in a timely fashion if a motorcycle moves into their lane ahead of them, resulting in a rear-end collision.
Accidents Between Two or More Motorcyclists
Most motorcyclists are attentive, practiced drivers. However, poor weather conditions, misjudgments, equipment failure, and other factors can cause crashes between two or more motorcyclists. This is especially true when motorcyclists ride in groups. In these cases, motorcyclists need legal representation from a motorcycle injury attorney who understands motorcycle traffic law.
San Leandro Motorcycle Accident Lawyer for Motorcycle Claims and Compensation
If you've been in a motorcycle accident, you might face crippling medical bills, loss of wages, pain, and suffering. If you've lost a loved one in a motorcycle accident, your loss could be incalculable. In any motorcycle accident, the law addresses who suffered injuries and who was at fault.
Your Advocate in a Motorcycle Accident Lawsuit
Every motorcyclist needs someone in their corner to advocate for their rights in the event of an accident. The Quirk Reed law firm fights for compensation for clients who suffer losses due to motorcycle accidents.
Choose Quirk Reed Law Firm for the Best Motorcycle Accident Lawyer in San Leandro
If you face legal consequences for your involvement in a motorcycle crash, the Quirk Reed law firm can help regardless of the circumstances. We'll insist that law enforcement respect your rights.
Suppose you are injured due to a motorcycle accident. In that case, we will advise and guide you through seeking fair compensation for your injuries and holding other drivers and law enforcement responsible for mistakes.
We want to hear from you if you need a motorcycle attorney in San Leandro, CA. Call Quirk Reed or visit our office at 220 4th St Suite 200, Oakland, CA 94607.
Areas we serve: