Accidents on an Oakland Freeway or along a busy avenue are frightening enough. But being forced into an accident by a carjacker can be even scarier.
You may be struck by another motorist and watch as the driver jumps and runs from the scene. You could pull to the side of the road to get out of the way of a police pursuit and end up getting rear-ended by a carjacking suspect.
Whether the suspect is apprehended or not, Oakland car accident victims should be assured that they can still secure injury support and compensation for car damage. It's a confusing and chaotic time, but there is help for the victims of Oakland car collisions caused by carjackers.
Carjacking Accident Dangers in Oakland
Carjackings remain a major safety concern in Oakland in 2022. The City of Oakland reports that as of December 5, 2022, officers had investigated 500 carjackings across the city, up one percent from this time in 2021.
The Oakland Police Department releases yearly data on Carjacking incidents. They track the number of carjacking 215(a) PC incidents. These are felony carjacking cases that involve someone taking a motor vehicle from another person by means of force or fear.
The numbers over a recent five-year span show that reported carjackings and attempts had been falling between 2017 and 2018. Those positive regressions were lost as a steady uptick began in 2019.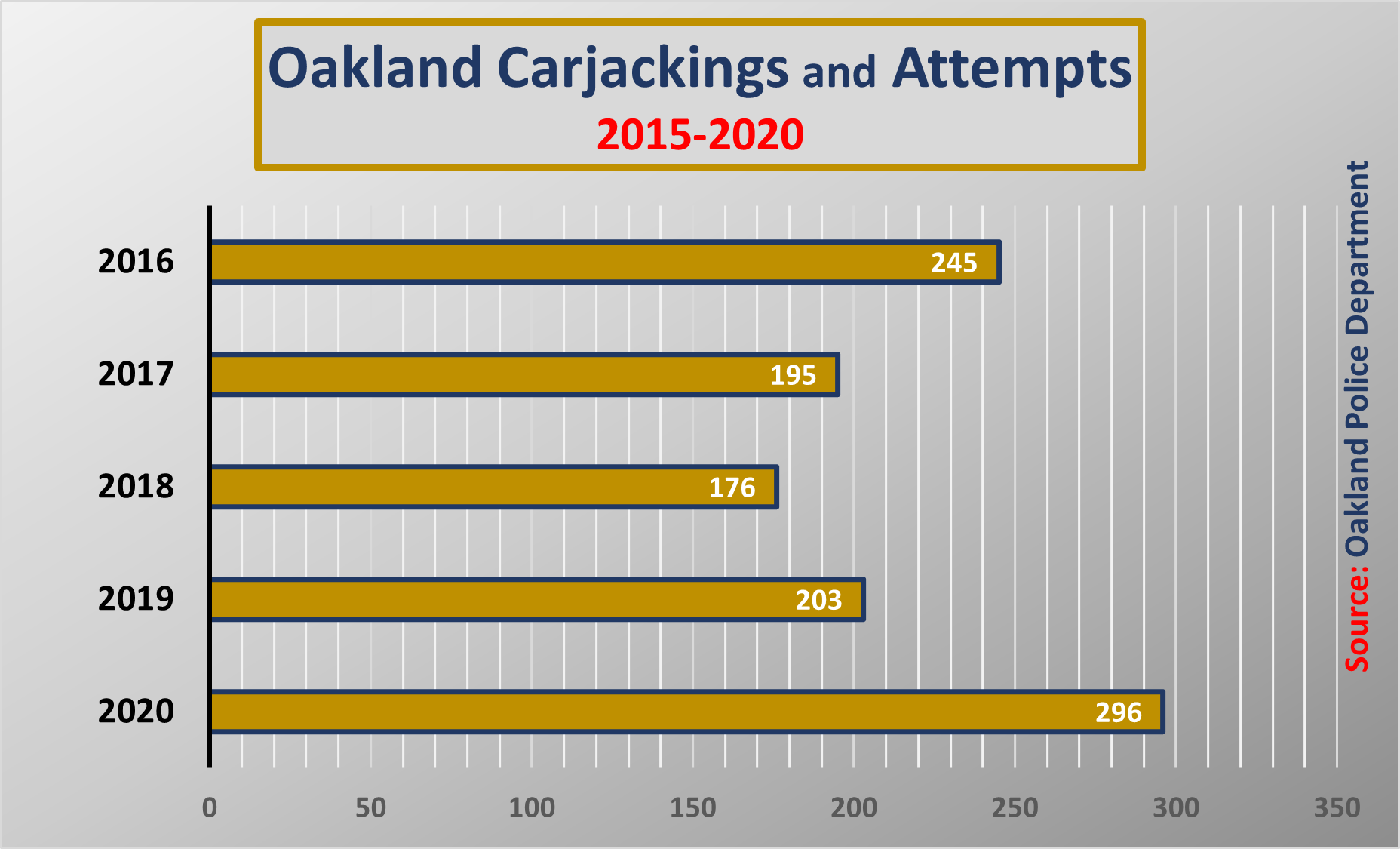 Over this five-year snapshot, Oakland averaged 223 carjackings or attempts a year. From 2019 to 2020, carjacking incidents rose by a shocking 46%.
Who Pays for Damages after an Oakland Car Accident Caused by a Carjacker
Victims may suffer serious injuries in an Oakland collision caused by a carjacking suspect. Injured patients will require substantial help in paying for weeks of medical care and physical therapy sessions. They could also need paychecks restored after losing time at work. Some victims may just need assistance paying for car and body repairs or vehicle replacement.
Victims will rightly wonder if these bills and others will have to be paid out of their own pockets. But in a crash involving a carjacker, is it possible to secure car insurance compensation? Thankfully, the answer is usually yes.
The chances that someone guilty of carjacking a vehicle has car insurance may seem small, but if they do, victims can file an insurance claim with the suspect's insurer.
More likely, a carjacker won't have auto insurance. In this case, victims can file a claim against their own car insurance provider. This claim is filed against the victim's uninsured/underinsured motorist coverage. Victims can receive support for recovery costs and car repairs.
This type of car accident claim would also be possible if a loved one's life was tragically taken by a carjacking suspect's reckless driving. The family of the victim would file a wrongful death claim with the deceased's car insurance company for help with funeral costs and leftover medical bills. The claim would also seek help with the income lost in the future now that the victim can't contribute to family finances.
Of course, if you are ever in an accident involving someone you suspect is a carjacker, worry about your safety before thinking about who is at fault in the accident. Stay in your car and lock the doors. Don't try to apprehend the suspect yourself. Remain in your vehicle until the scene is secure if possible.
Do I Have to Wait on a Criminal Trial in Order to Earn Support After an Oakland Accident Involving a Carjacker?
No. A civil claim can be filed even as the carjacking suspect faces a criminal trial. The criminal proceedings can be ongoing, but a victim can file an accident claim and secure compensation regardless.
In California, you have up to two years to file an injury claim over an accident caused by a carjacking suspect. But you shouldn't wait this long. Acting quickly gives your Oakland carjacking car accident attorney a better chance to secure evidence and negotiate settlement money for you as fast as possible.
Is the Owner of a Stolen Car Liable in a Car Accident Involving a Carjacker?
The owner of the car that struck you usually can't be held liable for your injuries or property damage. Once a car has been stolen or carjacked from the owner, the owner isn't responsible for what happens.
Car owners would only be liable if they willingly loaned the car to someone, and that driver caused an accident.
Do I Need a Car Accident Lawyer After a Crash Caused by an Oakland Carjacker?
In most cases, yes. If your accident involved serious injuries, you'll want to make sure you receive fair treatment from insurance companies. You'll need full reimbursement for an emergency room visit and any medical care that is necessary in the months to come.
If you leave the amount of your injury settlement up to an insurance adjuster, you will always receive less than what you should for recovery costs. Your lawyer forces another car insurance company, or your own, to do the right thing and provide fair support as you heal.
Contact an Oakland Carjacking Car Accident Lawyer for a Free Consultation
A car crash caused by a carjacking suspect could leave you injured and seeking answers. Fortunately, the skilled Oakland Car Accident Lawyers at Quirk Reed, LLP know how to secure vital support for victims. Support is available regardless of if a carjacking suspect is arrested or even has car insurance.
Contact our attorneys to schedule a free carjacking car accident case consultation today. Find out what your case may be worth and let us help you determine every party you can call on for support after a frightening Oakland collision.