A San Leandro car accident lawyer could help you secure compensation if you were in a motor vehicle accident. 
Why Quirk Reed LLP Are the Right Car Accident Lawyers in San Leandro, CA
Have you asked, "Who is the right car accident lawyer near me?" Quirk Reed, LLP can represent you in and out of court after a collision with another car, a truck, a motorcycle, or a different kind of vehicle. We use our expertise to develop a personalized plan to handle your claim.
Our team digs into the details of your case, focusing on all evidence and information about the accident. Our Oakland car accident lawyers focuses predominantly on car accident and personal injury claims, allowing him to understand and empathize with your situation.
We focus on handling insurance agents for you, and we always keep you up-to-date about the progress of your claim. Our San Leandro personal injury lawyer use our understanding of the law in San Leandro to resolve your claim either through a settlement or in court.
Areas We Serve: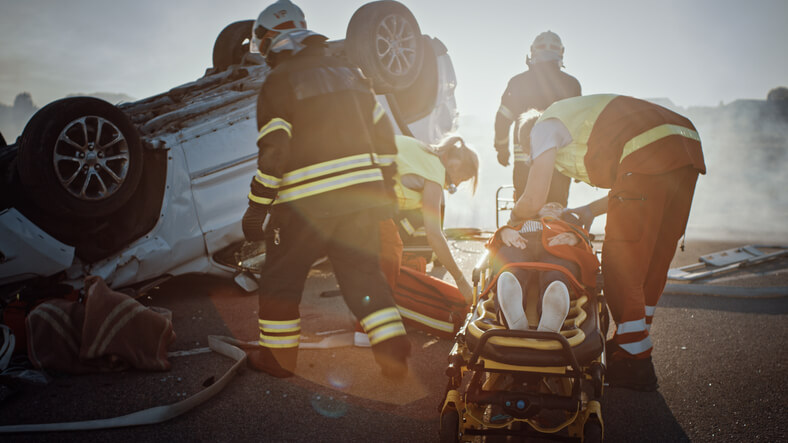 Types of Car Accidents
A car accident lawyer can assist you after any of the following accidents:
Head-on Collision
Two vehicles run directly into one another in a head-on collision.
Pedestrian Collision
Some drivers hit individuals walking, and car accident attorneys can help if you sustained an injury as a pedestrian.
T-Bone Car Accident
We often see these accidents at intersections, where one car hits the side of another.
Single-Vehicle Accident
Drivers may run off the road or hit a stationary object in a single-vehicle accident.
Sideswipe Accidents
These accidents occur when one vehicle brushes another. 
Rear-end Collision
These collisions can occur at stop signs or red lights.
Multi-vehicle Collision
Multi-vehicle collisions involve two or more vehicles.
Distracted Driver Accident
Drivers cause many accidents in our area when they ignore the road.
Drunk Driver Accident
Drivers cannot legally operate a vehicle after consuming alcohol due to the increased risk of an accident.
Elderly Driver Accident
Older drivers may cause an accident due to weakened vision or even issues with their medication.
Road Rage Accident
Drivers who become violent and angry may cause accidents on purpose.
Rollover Accident
Finally, we often see rollover accidents when large trucks lose control while trying to take a turn.
Car Accident Injuries
A car injury lawyer can help you seek damages to cover the medical expenses caused by: 
Traumatic Brain Injuries (TBI)
TBIs often result from head trauma in an accident and can lead to memory loss and other issues.
Soft Tissue Injuries
You may experience cuts, bruises, and other soft tissue injuries. If so, you can call a car crash attorney.
Post-Traumatic Stress Disorder
The trauma of a car accident can leave you with lasting mental anguish, issues sleeping, and stress responses that impact your day-to-day life.
Chest Injuries
Some individuals experience chest injuries, like broken ribs, in an accident. A car crash lawyer can help in this situation.
Head Injuries
A car crash injury lawyer can step in if you experience a concussion or other head injury following a collision.
Broken Bones
You may break bones anywhere in your body during a collision with another vehicle.
Internal Bleeding
Internal bleeding may occur without any outward signs. Make sure you visit a doctor after your accident to get evaluated for any internal injuries.
Wrongful Death
Sometimes, accidents result in the loss of life in San Leandro. Car accident injury lawyers assist your family in this situation.
San Leandro Car Accident Statistics
Up to 50 million people sustain injuries in car accidents every year. In the state of California, there were over 3,500 traffic fatalities in the year 2019 alone. 
Many drivers involved in fatal accidents were operating a vehicle under the influence of either alcohol or drugs. Around 50% of the drivers who lost their lives in California in 2019 tested positive for the presence of illegal substances. 
A San Leandro car accident lawyer can provide you with personal care after a collision.
Common Damages Due to Car Accidents
You may end up facing numerous expenses after a car accident. Medical expenses often represent the primary cost after a collision, as you may end up being charged for:
Emergency medical treatment

Surgeries and other procedures

Tests and assessments

Rehabilitation and physical therapy
Lawyers for a car accident understand that your expenses may multiply after the collision. You may also experience costs associated with repairing – or even replacing – your motor vehicle. You can work with the best car accident lawyer to seek compensation for any damages caused by the wreck.
Car Accident Attorneys in San Leandro for Car Accident Injury Claims and Compensation
A lawyer for a car accident can help you seek compensation following your collision. Depending upon your situation, the best car accident attorney may help you secure coverage for your:
Medical expenses

Loss of income

Property damage

Pain and suffering
You may secure some compensation from insurance coverage after an accident. The other driver's insurance may cover the majority of your losses. You can also seek punitive damages – or compensation meant to punish the other driver – by taking your claim to court.
Top-Rated San Leandro Car Accident Lawyer – Quirk Reed LLP
Are you asking yourself, "Can I find a car crash lawyer near me?" If so, consider working with a professional legal team today by contacting Quirk Reed, LLP. Our lawyers handle car accident claims and understand the ins and outs of the court system in California.
Working with a San Leandro car accident lawyer can help you regain your peace of mind after a collision. Allow our team to work to resolve your case, either by settling with insurance agents or securing a verdict in your favor. Call us today and receive your free quote!