Personal injuries caused by an accident in San Leandro, CA, can have a lasting impact on your life. You can secure help handling this situation from Quirk Reed, LLP. Start working with a San Leandro personal injury lawyer, by calling us today.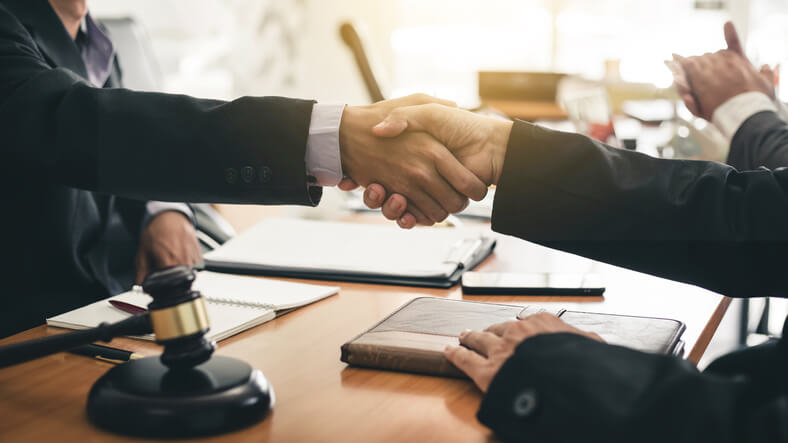 Legal Services Offered by Our Personal Injury Lawyer in San Leandro, CA
Personal injury attorneys help clients in San Leandro after many dangerous incidents. You can contact our team after the accident:
Car accidents are prevalent, with millions occurring every year around the country. We can help if another driver caused your accident through reckless behavior or negligence.
Motorcycle Accident Lawyers in San Leandro
Motorcycle drivers have less protection than other motorists, which can lead to severe injuries in an accident. Consider letting a personal injury attorney help you if a motorist who wasn't paying attention struck you.
Truck Accident Lawyers in San Leandro, CA
Large trucks cause severe accidents in San Leandro. A personal injury law firm can step in to help if you were in an accident with a big rig, 18-wheeler, semi-truck, or another large motor vehicle.
San Leandro Uber Accident Lawyers
Uber drivers earn money by transporting other people in their vehicles. Unfortunately, sometimes these drivers fail to operate their vehicles safely, leading to accidents in San Leandro. We step in to build your case in this situation.
Lyft Accident Lawyers San Leandro, CA
Lyft operates in much the same way as Uber. You may climb into a car expecting a safe ride, only to end up in an accident caused by an inexperienced or dangerous driver. A lawyer for personal injury can assist you in this situation.
Dog Bite Lawyers San Leandro
Pet owners have a responsibility to control the actions of their animals. We can help you secure compensation if a dog bit you, especially if the animal has a history of aggressive action or attacks on other people.
Wrongful Death Lawyers in San Leandro
Have you lost a family member in an accident? If so, lawyers for personal injury can provide you with compassionate legal advice. You may file a wrongful death claim to seek damages to cover things like funeral or burial expenses.
Brain Injury Lawyers in San Leandro, CA
Many accidents lead to brain injuries. For example, slipping and falling may result in a concussion. You may also experience this kind of injury after a car accident or while playing a contact sport. Contact us to learn about compensation for traumatic brain injuries (TBIs).
San Leandro Nursing Home Neglect Lawyers
You depend on nursing homes to care for your loved ones as they age or if they experience specific disabilities that require long-term care. Unfortunately, these facilities sometimes provide subpar care, leading to injuries.
Bicycle Accident Lawyers San Leandro, CA
Bicyclists have a right to share the road with motorists. However, some motorists don't pay attention to bikers, leading to severe accidents. A personal injury law firm can build a claim for you if a motorist hits you while riding your bike in San Leandro.
Pedestrian Accident Lawyers San Leandro
Pedestrians can happen anywhere along the road, but they're especially common in parking lots. Many drivers fail to pay attention when backing up, resulting in these accidents. Pedestrian accidents can result in broken bones and other serious injuries.
Electric Scooters Accident Lawyers in San Leandro
Do you operate an electric scooter? These scooters provide a great way to travel around while minimizing your carbon footprint. However, they may not stand up to a larger motor vehicle in an accident, leading to considerable injuries.
Slip and Fall Accident Lawyers in San Leandro, CA
A San Leandro personal injury lawyer can step in to help if you slipped and fell while at work or another place of business. We can assess the causes of your accident and help you determine liability for your injuries.
San Leandro Paralysis Injuries Lawyers
Paralysis can result from many accidents, including car accidents and slip and fall accidents. We can help if you lose feeling in part of your body due to someone else's negligence.
Why Should I Partner with Personal Injury Attorneys in San Leandro?
Have you asked, "Why should I contact a personal injury lawyer near me?" You can take advantage of numerous benefits by working with a lawyer. We provide professional and objective advice based on our knowledge of personal injury law.
We understand how to handle insurance companies. Our position as a law firm gives us the ability to negotiate with insurance agents, saving you time and reducing your stress. We work diligently to provide our clients with a better chance of winning or securing a better settlement.
Our team members fight for you, and we stand ready to take your case to trial if necessary. You can contact us if you want help securing fair compensation to cover your:
Medical expenses
Lost income
Physical pain and suffering
Emotional distress
Loss of consortium
Contact us to learn more about the benefits of a personal injury lawsuit.
What to Look for In a Personal Injury Lawyer
Are you interested in finding the best personal injury lawyer? You can locate a lawyer who puts you first by researching law firms in your area. You may look for a firm that has a high success rate involving medical-related cases.
Many clients in your situation want to work with lawyers who are detail-oriented, thorough, and trustworthy. Additionally, you may look for lawyers who understand the intricate legalities of injury law in San Leandro.
However, intellectual skills only represent part of what you look for in a personal injury lawyer. You also want a professional who has superb communication skills, is a good listener with empathy and respects their peers.
Make sure you keep these factors in mind when you ask, "What should a personal injury attorney near me offer?"
Hire Trusted Lawyers for Personal Injury Cases in San Leandro, CA – Quirk Reed LLP
Allow a San Leandro personal injury lawyer to help build your case today. Contact us by calling to receive a free quote from our team at Quirk Reed, LLP.
Areas we serve: